overview
Located north of Salt Lake City, Ogden is a gateway to ski resorts like Snowbasin and Nordic Valley. An adventure attraction, Ogden's rugged and metropolitan personality is derived from an interesting balance of vibrant shopping and exciting nightlife with year-round access to outdoor recreation like hiking and biking, along with the majestic beauty of the Wasatch Mountain Range.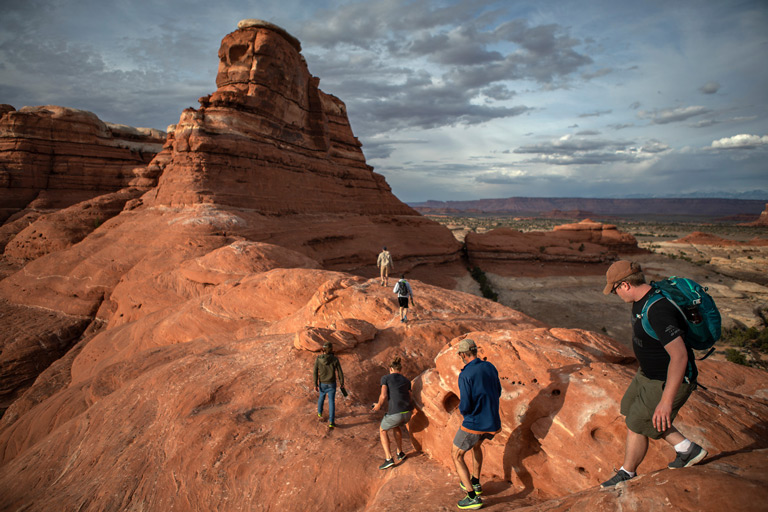 courses
Bachelor Courses in English

Arts & Humanities; Engineering, Applied Science & Technology; Business and Economics; Education; Science; and Social & Behavioral Sciences. You will enroll in 12-15 semester credit hours, which represents 4-5 courses, each meeting 3 hours per week. For a list of available courses, click here.  Courses in the health professions are not available to exchange students.
All exchange students are required to take UNIV 1106 – American University Experience. UNIV 1106 is specifically designed to aid in the acclimation process for international students. Cultural activities, such as rafting or snowshoeing, are incorporated free of charge into the course.
Master Courses in English

Master-level students can sometimes be accepted; however, the Magellan tuition waiver is only applicable for bachelor-level tuition at Weber State. Therefore, students who choose to enroll in master-lever courses at Weber State will be charged the differential tuition fee.  In addition, some programs have strict entry requirements; therefore, students/coordinators should verify eligibility in advance.  If approved for a master-level exchange, enrollment is possible for a minimum of 9 US credits and maximum of 15.  For class information, click here.
Note: students may not enroll in courses within the health professions.
Thesis/Project Work
Students interested in working on their thesis or final project may usually do so (must be approved by WSU faculty advisor and department chair).  WSU can generally arrange a faculty advisor and grant some academic credit for the work. Students must enroll in and be motivated to successfully complete a minimum of 12 hours of course credit (24 ECTS) if bachelor-level or a minimum of 9 hours of course credit (18 ECTS) if master-level.  Of this, up to 6 credits can generally be granted for thesis/project work.
academics
Accreditations
Weber State's accreditations can be found online.
Orientation
A mandatory orientation is held during the week before classes begin and is designed to formally welcome students to Weber State, orient them to campus, and introduce them to key services.
Internships
An on- or off-campus unpaid internship may be possible; a desire for an internship must be discussed with the university before nomination. Internships cannot be guaranteed. The most likely fields are history, athletics, computing and business. Academic credit of 1-3 US credits can generally be awarded; an internship of 3 credits requires 180 hours of internship participation for the semester (approx. 10-12 hours per week).
Part-time Employment
On campus employment is allowed but not guaranteed.  Wage rates generally vary from $10 to $12 per hour for part-time student work.  Students commonly work as tutors, in computer labs or for facilities management.
Students with Disabilities
Information is available online.
Grades & Transcripts
Weber State uses a 4.0 grading scale.  Students will receive a transcript at the conclusion of the exchange term; the fee is $7.50. For additional details on transfer of credits, please refer to the Student Guidebook.
fees
Health Insurance
All exchange students must have health insurance that meets U.S. State Department regulations. Students are required to enroll in the Weber State University international health insurance plan; the cost is approximately $500 per semester. Insurance from the student's home country will not be accepted.
Course Fees
Varies.  Some classes at Weber State have additional fees called "Course Fees."  These fees only apply if a student enrolls in a course (e.g., art, athletics, some computer science) with a required fee.  The fee covers materials used in class specifically for the student.  For example, "Skiing" has a $110 course fee that covers ski lift tickets and some equipment rentals.
Foreign Student Fee
$60. All foreign students (degree-seeking and non-degree-seeking) are required to pay this administrative fee.
Application Fee
$65.  This fee provides for the processing of documents related to the exchange period.
Textbooks
$300-400, depending on courses.  Different options are available for purchasing textbooks, including used books and book rentals.
Official Transcript
$7.50. This fee should be paid prior to returning home.
visas
All non-US citizens are required to obtain a J-1 visa to study in the United States.
video
logistics
Housing

Residence halls; off-campus options.  On-campus housing varies based on facility and private/share options but ranges from approximately $1,800-3,000/semester, including utilities, internet TV, and WI-FI; housing availability can vary between semesters.  On-campus housing cannot be guaranteed after June 1. University Village (apartment style) and Residence Hall 1 (dormitory style with Ski-mester passes) are extremely popular and fill very fast. Students should apply for admission as soon as possible so they can apply for housing before it fills up. Students should be prepared to live in an alternate room in case their preferred option is full.  Off campus housing is available, and generally ranges between approximately $350-700 per month.
Meals
A meal plan is required for all students living at Wildcat Village (dormitory style) but is optional for students living at University Village (apartment style).  Prices range from approximately $1,500-2,700/semester.
Transportation

Fly into Salt Lake City, Utah.  Free transportation to campus is provided on certain days with advance reservation.
community
Entertainment
Weber State offers a variety of sport and recreation activities, as well as student organizations and events.  Ogden is home to both rugged and urban aspects, and offers an exciting array of activities, from skiing and snowboarding in the winter to hiking in the summer. Opportunities for nightlife, arts and culture, and shopping abound.
Shopping

A variety of food and retail outlets are available on campus and throughout the city.   Most businesses are open from 9am – 5pm Monday to Friday.  Larger shopping outlets are open during the evenings and/or weekend.
Climate

Summer temperatures average between 27-33ºC, while winter temperatures average 3-12ºC.