overview
Dornbirn is nestled in the Austrian Alps in the Four Country Region where Austria, Germany, Switzerland, and Liechtenstein meet.  It is the biggest city in the region of Vorarlberg and the economic center, but it is still able to preserve its charm and an impressive mixture of rural and urban architecture.  With its young, colorful and active cultural scene, the town has much to offer young people in particular.  Sports enthusiasts also enjoy the numerous sports activities available in Dornbirn and the surrounding area.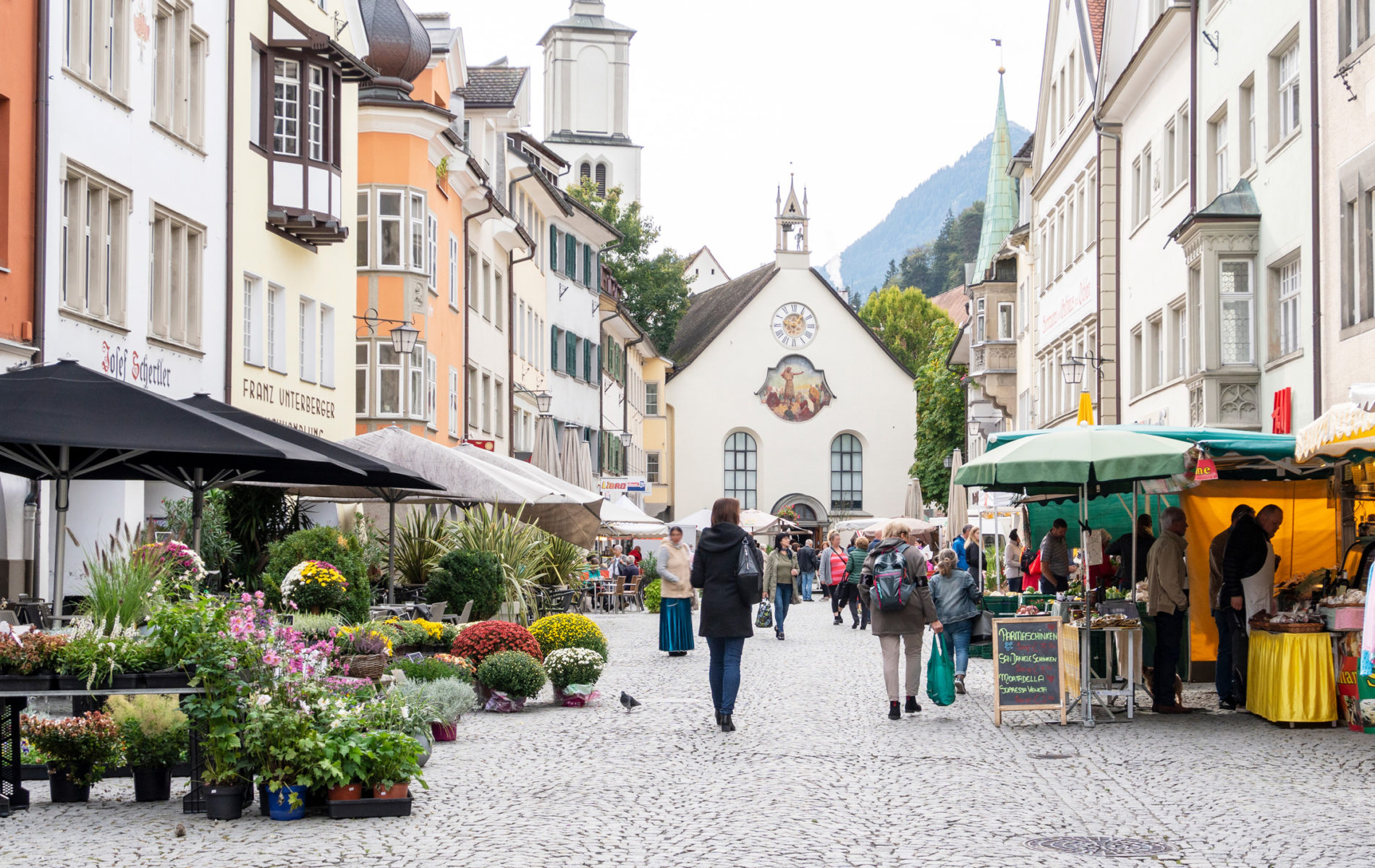 courses
Bachelor Courses in English
Business (fall/spring), Mechatronics (fall), Computer Science – Software & Information Engineering (fall), Computer Science Digital Innovation (spring), Environment & Engineering (fall), Inter Media (spring), Social Work (spring), and Electrical Engineering (fall).  A full load is 24-30 ECTS units (12-15 credit hours) and may involve as many as 9 courses/semester.  For a list of courses taught in English, click here.
Master Courses in English
Mechatronics (fall/spring), Sustainable Energy Systems (fall/spring), Computer Science (spring), and International Management & Leadership (spring).  Master-level students may attend for one or two semesters and enroll in master-level courses, upper-level bachelor courses, and/or research.  For a list of courses taught in English, click here.
Language Courses
Students interested in learning German before their fall exchange semester are invited to attend a summer language program offered by the University of Konstanz (a partner of Vorarlberg University of Applied Sciences) during the month of August.
academics
Accreditations
FH Vorarlberg and its degree programs are accredited for an unlimited period by the Austrian Agency for Quality Assurance and Accreditation. This accreditation confirms compliance with recognized standards for university studies and is regularly reviewed for re-accreditation. One primary goal of re-accreditation is to guarantee the quality of the degree programs. FH Vorarlberg is a post-secondary, university-level public institution sponsored by the State of Vorarlberg.
Online Registration
All exchange students must complete the online registration once their placement at Vorarlberg is confirmed.  Please select "Non-European Partner" for your exchange program.  "USA" in German is "Vereinigte Staaten von Amerika" – use this for "nationality" and "country of sending institution," if applicable.  For "Duration of Erasmus Stay," use the dates of your exchange program which are available from the Academic Calendar.  Unless otherwise instructed, use "English for Intercultural Awareness" to indicate English as your primary language (if applicable).
Orientation
The university conducts new student orientation one week before the start of classes.  Additional useful information is available online, as well as in the fact sheet.
Internships
Not possible.
Part-time Employment
Not possible.
Students with Disabilities
More information is available here.
Grades & Transcripts
Vorarlberg uses both the Austrian grading system and the ECTS grading system.  Austrian grades range from 1 to 5, with 1 being "very good" and 5 being "not passing."  The lowest passing grade is "4."  For additional details on transfer of credits, please refer to the Student Guidebook.
Students will receive a transcript for their work as exchange students.  For information, please contact the international office.  Transcripts are sent to the student and the home university one to two months after the end of the semester.
scholarship
Non-European students who study abroad at Universities of Applied Sciences in Austria, like Vorarlberg, may apply for an Ernst Mach Grant for the fall 2024 semester and/or spring 2025 semester. These grants are available to master-level students as well as to bachelor-level students who have completed at least 4 semesters of study. The deadline to apply for an Ernst Mach Grant is March 1, 2024; therefore, applications to study at FH Vorarlberg must be processed earlier than the normal Magellan deadlines. Therefore, if you wish to apply for a grant for either the fall 2024 and/or spring 2025 semester, you must complete your Magellan application AND email your interest to the Magellan office as soon as possible but no later than January 25, 2024. The university will then proceed with the admissions process and will provide an admission confirmation which is needed for the grant application.
fees
Health Insurance
Proof of health insurance is required; a policy should be purchased prior to arrival. The International Office can recommend English-speaking doctors; non-EU students may pay out-of-pocket costs and be reimbursed.
Student Union Fee
25 EUR (approx.).  Membership in the Student Union is required; the fee is payable upon arrival.
Textbooks
Typically no cost.
visas
Students planning to study in Austria for three to six months must apply for a student visa.
video
logistics
Housing
Shared dormitories.  Housing is available in three different student dormitories.  The International Office supports visiting students in organizing their stay and also helps with the organization of accommodation.  Housing costs are typically 400-500 EUR per month with a minimum rental period of 5 months.
Meals
Students generally prepare their own meals (kitchens are available in the dormitories).  Lunch at the school cafeteria is approximately 4.60-7.60 EUR.  For meals and miscellaneous expenses, it is wise to budget approximately 400-500 EUR per month.
Transportation

Zurich is the nearest airport, although you may consider Vienna or Munich as well.  You can reach Dornbirn by train from any of these cities (Zurich is 2 hours away).
The city has good rail connections to most points in Europe.  Dornbirn has a local bus system; taxi service is available and useful for getting from the train station to the university.  More information is available here.
community
Entertainment
Located in Vorarlberg, Dornbirn offers social life that is likely to revolve around membership in clubs catering to all sorts of special interests.  The student association is responsible for many school-related activities.  Outdoor sports are popular in both winter and summer.  Skiing and other alpine activities are 30 minutes away by train.  Cultural events often feature local performing groups, especially brass bands and folk dancers in traditional costume.  Special festival events include Sparks Sunday, Carnival (Mardi Gras), the Dornbirn Fair, Corpus Christi Day, and the Christmas Market.  Unique attractions include the cable car ride at Karren and the Rolls Royce Museum.
Shopping
The main square in the center of town provides adequate choices for shops, restaurants, and bars.  A shopping mall is situated at the outskirts of Dornbirn, 10-minute bus ride from the town center.
Climate
The area has a moderate, continental climate with warm, pleasant summers and snow during the winter months.  Summer temperatures usually range from 55-85ºF but occasionally are over 90ºF.  Winter temperatures are typically 15-55ºF.