overview
Located in the heart of the West Midlands on the banks of the River Severn, Worcester is a beautiful cathedral and university city with a fascinating history, boasting interesting architecture, medieval sites, sports teams and venues, independent boutiques and high street shopping, and exciting events.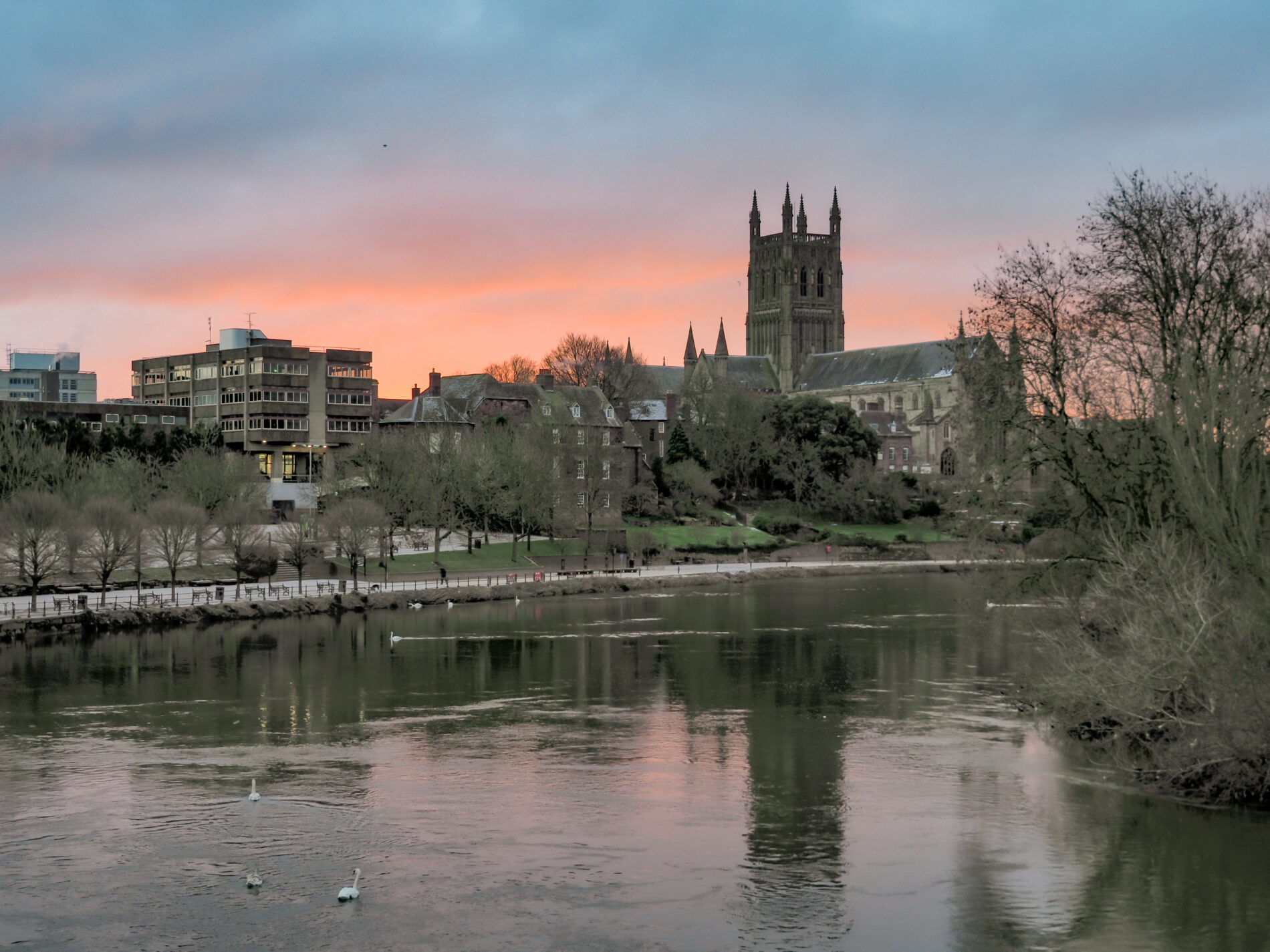 courses
Bachelor Courses in English
Art & Design; Business & Law; Computing; Education; Humanities; Media; Psychology; Sciences; and Sport.  Students taking a full load of courses register for 60 UW credits (30 ECTS/15 US credits), which represents 4 courses. You can view courses here.
NOTE: Students cannot enroll in courses in Allied Health, Nursing, Midwifery, or Medicine.
NOTE: The fall semester officially ends during the second week of January, but most classes and some assessments will conclude before the Christmas break. If there is an in-person exam scheduled in January that the student cannot attend because of home university commitments, the student should make their lecturer and the international office aware; the international office can liaise with the UW Exam Officer and the home university to make sure the exam can be proctored at home. Although the university tries to be as flexible as possible, they cannot guarantee that early departure arrangements can always be made.
Master Courses in English
Master-level exchanges are not possible.
Thesis/Final Project Work
Not possible
academics
Orientation
The International Induction takes place one week before the start of each semester. It includes: airport pick up, welcome breakfast, student-led induction, campus and city tours, shopping tours, and sessions with the Student Union and other student services.
Internships
Not possible

Part-time Employment
Students attending for one semester are not allowed to work. Students attending for a full academic year on a study visa can work part-time during the term time and full-time during a holiday period.
Students with Disabilities
The Disability and Dyslexia Service team can offer a wide range of ad hoc support. The International Mobility team will act as liaison between the sending institution, the student and the DDS team.
Grades & Transcripts
Students' work is marked using Literal Grades. Passing grades are from A to G, with A being exceptional and D being very poor. E is a Borderline Fail – some engagement and understanding, but overall does not quite meet criteria for task. Full Failing grades are from F to H, with F being inadequate and H being seriously inadequate and poor.
Transcripts will be automatically issued by the Student Records department to the international office of the home university. Official transcripts are issued once per year in the summer (usually in June), though fall semester participants will receive a provisional transcript in March. Students who need their transcript earlier for graduation should discuss with the international office in advance.
For more details on credit transfer, please refer to the Student Guidebook.
fees
Health Insurance
Students must arrange their own health insurance policy and provide proof of coverage.
Textbooks
Typically no cost.
visas
Semester long exchange students usually enter the UK as visitors. Depending on their nationality, they may require a visitor visa. Yearlong exchange students are required to apply for a study visa. Immigration and Visa support is available.
video
logistics
Housing
Shared residence hall. Students will stay in a single room in a shared residence hall apartment with either a shared or ensuite bathroom.  The cost is approximately 120-150 GBP/week.  Incoming exchange students will receive an email with booking instructions as soon as the acceptance letter is issued.  More information is available here.
Meals
Grocery stores are available nearby. In addition, a variety of restaurants, bars, bistros, cafes, and snack bars is available.
Transportation
Students should fly into London Heathrow (LHR) or Birmingham International (BHX).  Airport pick-ups are provided on designated days for both the fall and the spring semester.
Local buses run through the University main campus. The cost of a single ticket is approximately 1.80 GBP.
community
Entertainment
Students can engage in any club and society hosted at the Student Union as well as become members of the International Student Network (ISN). The International Experience team runs a calendar of trips and social events throughout the whole academic year. In addition, the city of Worcester offers a vibrant program of events throughout the year, along with shopping, historical sites, medieval architecture, riverside walks and parks, sporting events, cinema, museums, and more.
Shopping
A variety of grocery and other stores is available. Shopping hours are usually between 8 AM and 8 PM.
Climate
Worcester enjoys a temperate climate with generally warm summers and mild winters.  Average high temperatures in summer are 68-72ºF/20-22ºC, while winter temperatures average 45-46ºF/7-8ºC.