overview
University of South Dakota, South Dakota's Flagship University, is an affordable, nationally ranked, public research institution with a small-town feel.  Students benefit from small class sizes and a student-to-faculty ratio of 15:1. Vermillion serves as a very safe, welcoming, and walkable home for students, and has the highest percentage of college students of any town in America, according to City Lab. The diverse student body offers plenty of opportunities to make new friends, and the International Office provides comprehensive support such as airport transfers and regional trips to the scenic Black Hills, among other destinations.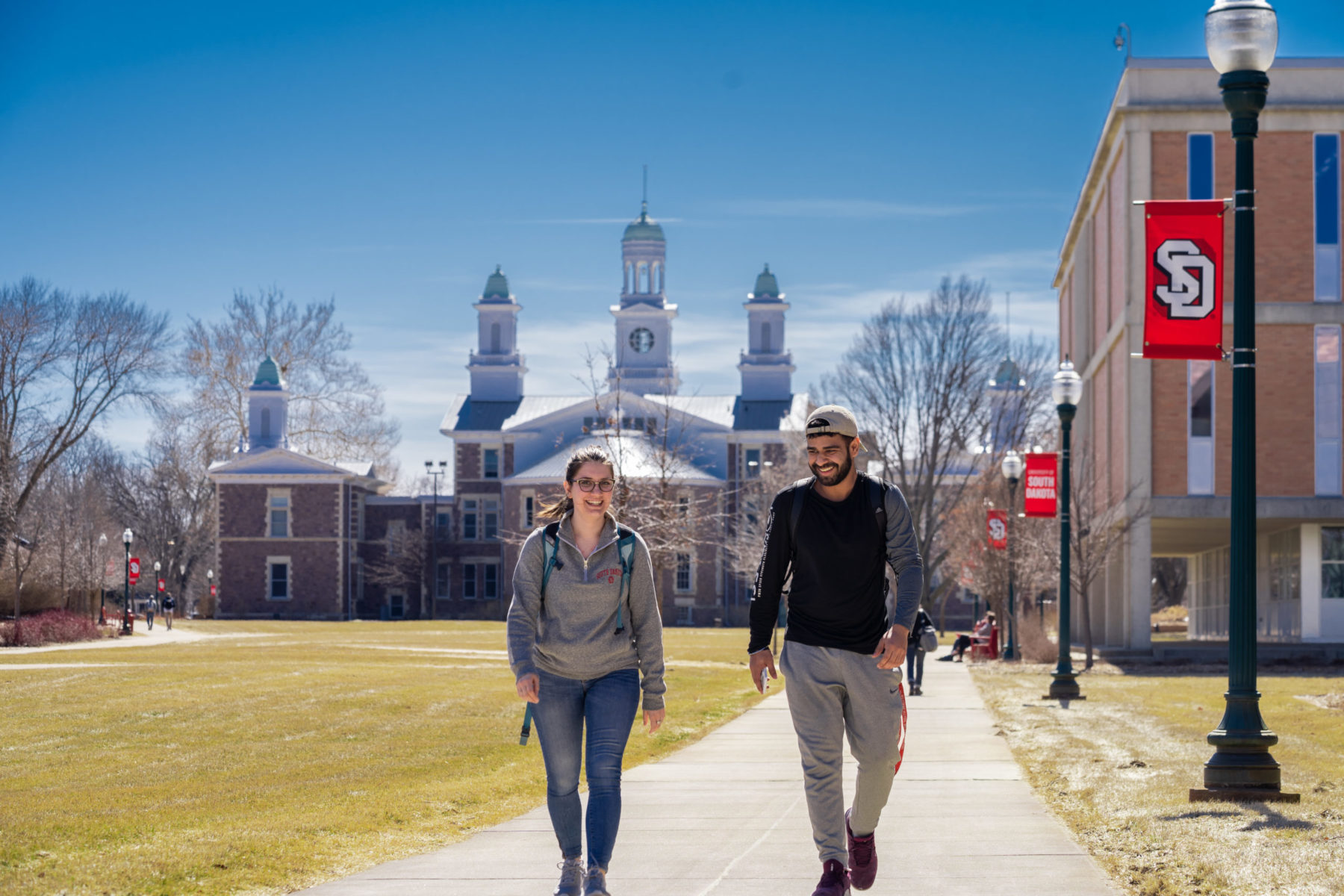 courses
Bachelor Courses in English
Arts & Sciences, Business, Education, Fine Arts, Pre-Law.   Students taking a full course load normally register for 12-15 semester credit hours, which represents 4-5 courses each meeting 3 hours per week.  As a liberal arts institution, USD encourages students to explore courses outside of their typical field of study, if approved to do so by their home institution. For course information, click here.
Note: Enrollment in dental hygiene courses is not possible; enrollment in some courses in the health sciences may be limited.
Master Courses in English
Arts & Sciences, Business, Education, Fine Arts. Students taking a full course load normally register for 9-12 semester credit hours, which represents 3-4 courses each meeting 3 hours per week.  For course information, click here. Please note that there are no master-level programs closed to exchange students; however, exact possibilities depend on course rotations, in-person courses, etc.
Thesis/Final Project Work
Bachelor- or master-level students may work on their thesis or final project while studying at USD; however, the desire to do so must be communicated to the university very early in the admissions process in order to confirm possibilities. The university will try to arrange a faculty advisor, if desired.  Up to 6 US semester hours of credit can usually be granted.  Students must maintain their status as full-time students while working on their thesis/project work.
academics
Accreditations
The university holds a variety of accreditations, including AACSB and ABET.
Orientation
In the fall semester, orientation is held the Thursday and Friday before the start of classes, while in the spring semester, it is held the Friday before. Orientation includes such topics as cultural competency and acculturation, familiarization with the university and American Higher Education, and more.
Internships
None available
Part-Time Employment
Part-time employment is allowed with authorization from the International Office. Usual positions include food service, library work, clerical work, etc. The minimum wage is $9.50 per hour.
Students with Disabilities
Information is available online.
Grades & Transcripts
The university uses a four point/letter grade evaluation system.  For additional details on transfer of credits, please refer to the Student Guidebook.
fees
Health Insurance
Health insurance must be purchased through the university. The cost is approximately $350 per semester. Students with pre-approved plans from the sending university may have this requirement waived.
International Student Fee
$150.  This provides for such things as airport pick-up, cultural trips and more.
Immunizations
All students must demonstrate immunity to measles, mumps, and rubella (MMR) before registering for classes. For more details, including fees, click here.
Textbooks
Varies. Approximately $75 per class.
Official Transcript
$5, plus any requested delivery expenses.
visas
All non-US citizens are required to obtain either an F-1 or J-1 visa to study in the United States.
video
logistics
Housing
On-campus dormitory.  Traditional dormitory accommodations are available, along with apartment-style housing.  On-campus housing ranges from approximately $2,000 to $3,500 per semester.
Meals
An optional meal plan can be purchased for approximately $1,800 per semester.
Transportation
Fly into Sioux Falls, South Dakota (FSD). The university provides free airport shuttles on select days for students arriving within five days of the start of orientation.
There is no public transport since Vermillion is a small, walkable college town. There is a shuttle that makes trips around Vermillion for $2.50 each way and includes pick-up/drop-off service.
community
Entertainment
There are many activities, both social and recreational, to do on campus. The university has a rich campus culture and has over 180 student organizations. They are NCAA Division I for athletics and well known in the region for their off-campus social scene. Vermillion offers movie theatres, specialty shops, and cafes conveniently located nearby campus. Outdoor activities such as kayaking, hiking and biking are available in the area.
Shopping
A variety of food and retail outlets are available on campus and throughout the city. Most businesses are open from 9am – 5pm Monday to Friday.  Larger shopping outlets are open during the evenings and/or weekend.
Climate
The average temperature during the summer is 29 ºC, while the average temperature during the winter is 2 ºC. Precipitation is possible throughout the year.