overview
Situated in southeast North Carolina, the small community of Pembroke is located approximately 160 kilometers from the Raleigh-Durham-Chapel Hill "Research Triangle."  Pembroke has been the political and cultural center of North Carolina's largest Native American tribe, the Lumbees, since the 1700s, making Pembroke a historic and culturally rich place to study.  Beautiful beaches and major metro areas like Charlotte and Raleigh-Durham are less than two hours away by car. Washington, D.C., is about five hours away via Amtrak train.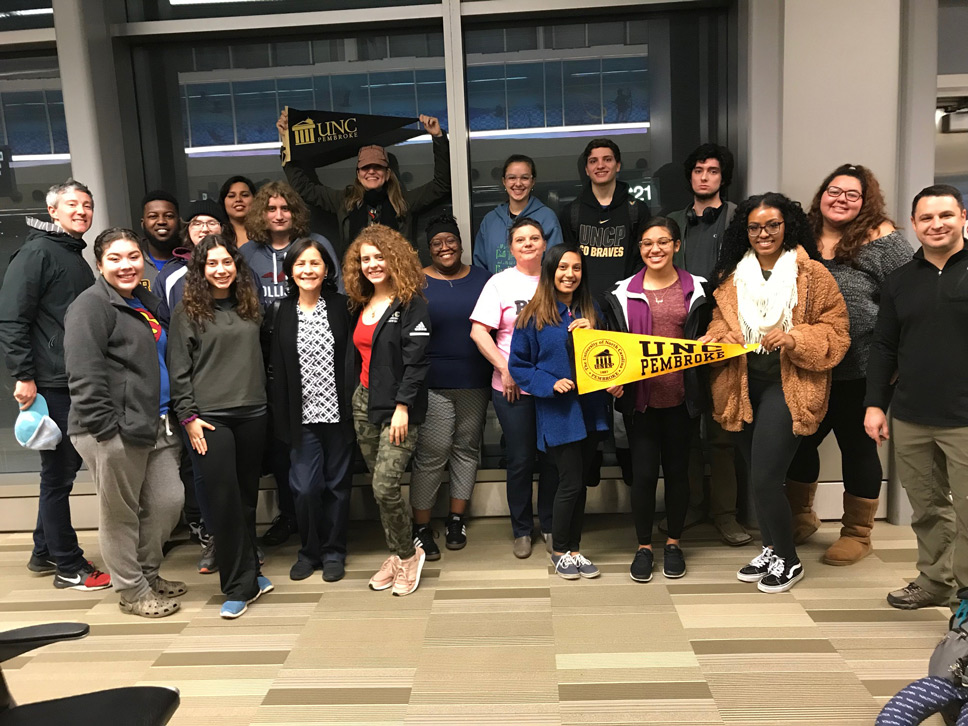 courses
Bachelor Courses in English

Business, Arts & Sciences, and Education.  Students typically register for 12-15 semester credit hours, which represents 4-5 in-person classes each meeting 3 hours per week.  To search for classes, click here.
Master Courses in English

Master-level students are not able to be accepted.
Thesis/Project Work
Not possible
academics
Accreditations
UNC Pembroke is accredited by the Commission on Colleges of the Southern Association of Colleges and Schools to award Baccalaureate and Master's level degrees.  The School of Business holds AACSB accreditation.
Orientation
Prior to arrival at UNCP, students will complete a series of pre-orientation tasks via email under the supervision of the UNCP Study Abroad Coordinator.  Students will complete their UNCP student health form, making note of all immunizations they have received and copying, scanning and sending the form via email to the UNCP Study Abroad Coordinator.  The coordinator will work with the Student Health Services Office to offer students guidance about additional immunizations they may need to complete before arrival at UNCP.  Students will also complete a detailed course selection form so that the Study Abroad Coordinator can assist them with registering for classes in advance.
Mandatory orientation usually takes place a few days prior to the official start of classes each semester.  All incoming students must arrive at least one day prior to this orientation.  Orientation includes topics that make life on the UNCP campus meaningful and enjoyable, immigration information, banking, health care, cell phone options, and more.
Internships
Though placements cannot be guaranteed, limited unpaid on- and off-campus internships are possible with non-profit organizations or within university departments. Internships typically require a minimum commitment of 10-20 hours per week for 13-15 weeks. A minimum TOEFL score of 68 is required. Academic credit of 3 semester credit hours (6 ECTS) can generally be granted.
Part-time Employment
Not possible
Students with Disabilities
Information is available online.
Grades & Transcripts
UNCP uses a four point/letter grade evaluation system.  The Office of Global Engagement assists visiting students with requesting transcripts prior to returning home.  For additional details on transfer of credits, please refer to the Student Guidebook.
fees
Health Insurance
$1,352 per semester (approx.).  Payable upon arrival, health insurance is required and must be purchased* through the university for the duration of studies.  Coverage dates are August 1-December 31, and January 1-July 31.  For more information, please visit UNCP's Student Health Services.
*If you have personal insurance that meets minimum requirements, you may be eligible for a UNCP policy waiver. Your policy must have at least $100,000 of total medical coverage, $25,000 of repatriation/return of mortal remains coverage, $50,000 of medical evacuation coverage, have no more than a $500 deductible and have an effective and termination date that covers the entire semester.
Official Transcript
Free for the first one; $10, plus any requested delivery expenses, for the second one.
Late Registration
None. Students will be assisted with online advance registration and MUST arrive on time.  Course registration is finalized at the end of the first week of classes.
Textbooks
Approximately $450 per semester
visas
All non-US citizens are required to obtain either an F-1 or J-1 visa to study in the United States.
logistics
Housing

On-campus dormitory.  Buildings are six-story traditional style communities, offering a perfect view of the bridge and Lowry Bell Tower, and offer spacious double rooms with a community bathroom. They are co-ed/mixed gender communities, separating gender by floors.  The cost for one semester (double occupancy) is approximately $2,712.
Meals
Meal plans are required for those living in most on-campus housing.  Various plans are available, starting at approximately $2,238 per semester for 10 meals per week, up to approximately $2,432 per semester for unlimited meals 7 days per week.
Transportation

UNCP only provides airport pick-up from Raleigh/Durham International Airport (RDU) on scheduled days.  Information will be provided in the student arrival packet.
community
Entertainment
Since Pembroke is a small rural community, much emphasis is placed on campus activities.  A wide variety of cultural, social, and athletic events are sponsored throughout the year.  The university's state-of-the-art Givens Performing Arts Center is the region's premier theatre facility and hosts national and international touring companies, including Broadway shows, as well as prominent public speakers. Both university and community people are interested in learning more about foreign visitors; international students are often invited to civic organizations, local schools, and other groups.  The Office of Global Engagement (OGE) arranges day and weekend trips to coastal beaches, mall outlet stores, and regional metropolitan areas for a modest cost.  There are museums and festivals that celebrate the Lumbee Tribe's history and culture, and the Lumber River State Park with its scenic cypress-gum swamps and forests is nearby.  The OGE also organizes numerous student activities throughout the year.
Shopping

Because there is very limited public transportation and only limited taxi (Uber) service in the Pembroke area, the university arranges visits to the local Wal-Mart grocery store twice a week.  US friends with cars are often willing to assist with local travel needs.  Many chain fast food restaurants are available around campus, and the nearby town of Lumberton offers more retail choices, including a small shopping mall.
Climate

Pembroke has winter temperatures ranging from -1ºC to 12ºC.  Summers are hot, with temperatures ranging from 25ºC to 32ºC.  Precipitation is possible throughout the year.