overview
Situated in former East Germany, Schmalkalden is approximately 110 miles northeast of Frankfurt and is approximately equidistant from Prague, Berlin, and Munich.  Located on the southern edge of the Thuringian forest, Schmalkalden is a charming city with an 1,125-year history.  It is known for its medieval town center with an impressive collection of half-timbered houses and buildings.  Schmalkalden and the province of Thuringia in general offer much to those who enjoy nature and culture.  From biking and trekking in the beautiful countryside to skiing in the winter, there are many recreational opportunities.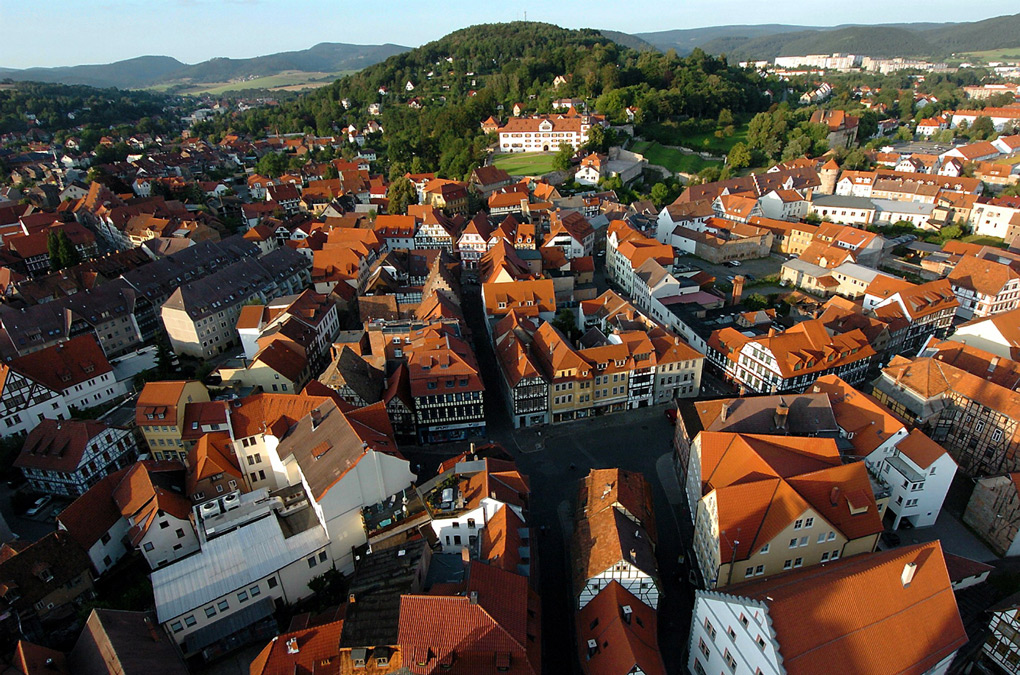 courses
Bachelor Courses in English
Business and Economics; Business Law; Computer Science; Electrical Engineering; Mechanical Engineering.  Students taking a full load will enroll in 24-30 ECTS units, or 12-15 semester credit hours, which may include 3-6 courses.  For a list of courses in English, click here.
NOTE:  Students should participate for the entire academic year or for the spring term only due to calendar differences.
Master Courses in English
Business and Economics; Business Law; Computer Science; Electrical Engineering; Mechanical Engineering. Master-level students may participate for one or two semesters. For a list of courses in English, click here.  Many courses are available in the Master of Arts in International Business and Economics program, which is taught entirely in English.
NOTE:  Students should participate for the entire academic year or for the spring term only due to calendar differences.
Language Courses
Free German language courses are available at beginner and advanced levels.
academics
Accreditations
All study programs are accredited by FIBAA and ACQUIN.
Orientation
The "Welcome Days" for all international students take place at the semester start. Students will be informed about the program about one month prior to the semester start.
Internships
Internships are possible on- or off-campus upon individual arrangement.  German language skills are an advantage but not always essential.
Students with Disabilities
Students with learning and/or physical disabilities are welcome.  A tutor can be arranged if needed.  Most parts of the campus are accessible for students with physical disabilities.
Grades & Transcripts
Schmalkalden uses both the German grading system and ECTS system.  The German system of grades is:
Very Good
Good
Satisfactory
Sufficient
Fail
Students may request a transcript after their study abroad period is finished. For details about the transfer of credits, please refer to the Student Guidebook.

fees
Health Insurance
Students must possess valid health insurance that complies with German regulations.  If you do not have valid, compliant insurance coverage from home, the university can arrange the purchase of health insurance; the monthly cost is approximately 110 EUR.  Please consult the university for the most up-to-date costs.
Please note that if you opt to purchase a policy from home, you will need to take your policy information and a certified translation to the local authorities upon arrival; they will evaluate the policy and if it meets the German regulatory standards, they will issue a document that you will need to present to the university.  If it is not in compliance, then you will be required to purchase the German policy.  Additional information is available online.
Semester Fee
131.74 EUR.  This provides for train transportation in the entire state of Thuringia as well as reduced cost for housing and food.
Textbooks
No cost.
visas
U.S. students planning to study in Germany are not required to have a visa to enter the country.  However, all non-EU students, regardless of length of stay, MUST obtain a residence permit, which can be done before or after arrival in Germany.  Arranging this permit is one of the university's offered services and is usually handled after the student's arrival.
video
logistics
Housing
On- and off-campus student residences.  The university offers several student residences.  The on-campus hall has fully furnished single rooms in separate accommodation units with bathroom and kitchen, and includes internet, television, and telephone connections.  Approximately eight minutes' walk from campus, an off-campus residence offers single rooms with kitchens and showers or single rooms in living groups of two-four people, each group having its own kitchen and bathroom.  The average cost of housing is approximately 200 EUR per month (plus a security deposit of 300 EUR). Students should apply for a dorm room 6 months prior to the semester start due to the high demand.
Meals
There is a cafeteria and a restaurant/dining hall on campus where students can have hot meals from breakfast to dinner for a special price (co-financed by the German government).  The student price per meal is generally between 1.50 EUR and 3.50 EUR.
Transportation
You should fly into Frankfurt (FRA), and then take a train to Schmalkalden.  There is a train station, "Schmalkalden-Fachhochschule", next to campus for convenient access to the university.
community
Entertainment
Restaurants and pubs can be found in the city center.  There are also recreational opportunities (e.g., pool, sport activities) available on campus.  The "student club" on campus is a common meeting place in the evenings.  The Department of Studies & International Relations also offers a comprehensive support program for international students, which includes excursions, study trips, parties, and much more.  In addition, the university Sports Office offers a range of sport activities ranging from basketball to swimming; most are free.  The location of Schmalkalden lends itself to outdoor activities, such as biking, trekking and skiing.
Shopping
There are grocery stores and a few retail stores near campus, while more stores and a hypermarket can be found near the city center, approximately 10 minutes' walk from campus.
Climate
Average temperatures in summer are 72ºF while winter averages are 34ºF.  Precipitation is evenly distributed throughout the year; periods of freezing weather and snow are relatively short.
short-term programs
| | | | |
| --- | --- | --- | --- |
| Program | Program Dates  | Application Deadline | Academic Credit |
| ISSS 2023 | June 5-24, 2023 | February 15, 2023 | 6-12 ECTS (3-6 US credits) |
International Summer School Schmalkalden (ISSS) combines an academic and cultural program in Berlin and Schmalkalden, Germany. Students will tour Berlin June 5-11, then tour the former Buchenwald Concentration Camp en route to Schmalkalden; during the Schmalkalden portion of the program, students will tour the town, as well as visit Wartburg Castle and Europe's largest salt mine, attend a "Midnight Sun" lecture, participate in the Schmalympics, and attend a closing ceremony.  A variety of course modules can be chosen from within the area of International Economics, International Business and Intercultural Management. To earn 3 US credits, students must pass 3 courses (three 60-minute exams), or pass 6 courses (six 60-minute exams) to earn 6 US credits.  For more information, please refer to the brochure.
Prerequisites: None
Meals and Accommodations: Accommodations are included in the program fee. Some meals are also included. All other meals are the student's responsibility.
Arrival and Departure: Arrive in Berlin, Germany, on Monday, June 5. The closest departure airport from Schmalkalden is in Frankfurt, Germany; plan your departure on Saturday, June 24.
Cost: 1,790 USD.  This fee includes accommodations, some meals, cultural tours, and transport from Berlin to Schmalkalden.