overview
Rotterdam is one of the largest ports in the world, the second largest city and the industrial heart of the Netherlands, and the economic, social and cultural center of the Rhine region.  In addition, Rotterdam is a city of modern architecture, events, leisure, and recreation.  Its international orientation as a port and the regeneration of its city center has made Rotterdam a business city without parallel.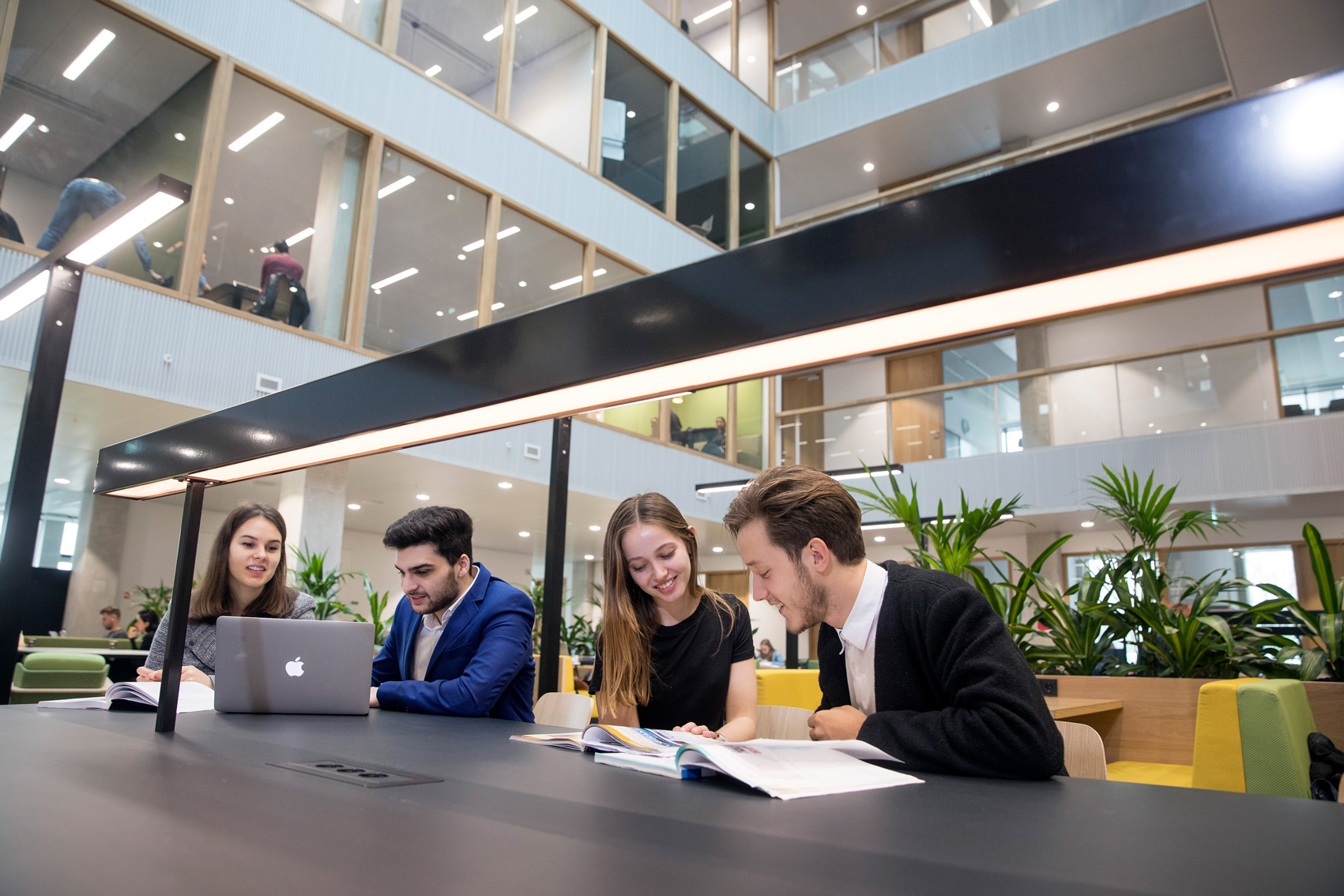 courses
Bachelor Courses in English
Business. Students can enroll in one of four programs that offer courses taught in English: International Business and Career (IBaC); Hey, Good Story!; Agile Consulting: Business Pressure Cooker; and Working World Wide.  IBaC is offered during the fall semester (September-January) and spring semester (February-June) and is worth 30 ECTS units (15 US credit hours), while the Working World Wide program is available during the fall semester only (September-January) and is worth 30 ECTS units (15 US credit hours). Agile Consulting  and Hey, Good Story! are offered during the spring semester only (February-mid May); Agile Consulting is worth 30 ECTS units (15 US credit hours), while Hey, Good Story! is worth 16 ECTS units (8 US credit hours). Students must attend for the full term and may not return home early (e.g., in December) to complete the program remotely.
Master Courses in English
Master-level courses are not available; however, master-level students are welcome to apply for one of the bachelor-level programs above if the home university approves.
Language Courses
None available
academics
Accreditations
Rotterdam University of Applied Sciences is accredited by NVAO (Accreditation Organization of the Netherlands and Flanders) and NIBS (Network of International Business Schools).
Exchange Student Application
Once approved for study by Magellan, you will be asked to complete an additional exchange student application.  This application must be completed between October 1-25 for those attending the spring semester and between April 1-25 for those attending the fall semester.
Orientation
Before the program starts, all exchange students will participate in Introduction Days to learn about the university and the community.  In addition, some exchange programs will assign you to a Dutch buddy.  You can watch a video for an impression of Introduction Days or refer to the exchange brochure for additional exchange-related information.
Internships
Internships primarily in marketing are possible off-campus with a work permit; however, they can be difficult to find.  When available, placements usually require 32-40 hours per week; credit can be granted by the university for the internship.
Part-time Employment
As a non-EU student with a valid study residence permit you are allowed to work for a maximum of 16 hours a week OR work full time during the months June, July and August. Besides the restriction in hours, your employer is required to apply for a work permit (TWV) on your behalf; you cannot apply for the work permit yourself.
Students with Disabilities
The university has limited capability of accommodating a student with a physical or learning disability.  Shops and services in the community also have limited accessibility.  If you have any questions, please contact the student counselors.
Grades & Transcripts
The university uses a 1-10 point evaluation system, with 5.5 being the minimum passing exam score.  For additional details on transfer of credits, please refer to the Student Guidebook.
All exchange students will receive a transcript at the conclusion of the semester. Some exchange programs will also issue a certificate.
fees
Health Insurance
All students must have adequate health insurance for their time in Rotterdam.  It is also recommended to purchase liability insurance. The university offers student insurance through the Aon insurance company.
Textbooks
Approximately 100-200 EUR per semester
visas
Students with American nationality planning to study in the Netherlands do not need a visa to enter the country.  However, if you remain in the EU longer than 90 days, you MUST obtain a residence permit for the Netherlands (210 EUR).  Students who are in EU countries for 90 days or less are not required to obtain a Netherlands residence permit.  Leisure travel within the EU must be included in the 90-day limit.  If you take classes over a 75-day period, you will only have 15 additional days before and/or after your academic experience for travel within the EU. Non-US citizens should check to see if a visa is required. More information can be found here.
video
logistics
Housing
Residence Halls.  The university will assist you with arranging a shared room in one of the privately owned residence halls in Rotterdam, or you can search for your own accommodation on the private market.  Residence hall rooms are furnished, but you will need to bring or buy towels, bedding, and utensils.  Rental prices at a residence hall range from approximately 475-1,000 EUR per month. Prices on the private market start at approximately 475 EUR per month and can go up to around 1,000 EUR per month.  You will likely need 1,000-1,400 EUR per month to cover housing, food, and personal expenses.  Please refer to the housing information for additional details.
Please note that the booking process is on a first come, first served basis. Exchange students can book a room after they have officially been accepted to one of the university's programs (spring intake: end of November, fall intake: end of May).
Meals
Students may make meals at home or eat in any of a number of restaurants, cafes, or snack bars located at the university and in the city.
Transportation

Fly into Rotterdam, or fly to Amsterdam, Brussels, or Paris and then take a direct train to Rotterdam.
For transportation within the city and its surroundings, Rotterdam has tram, bus, and underground metro options.
community
Entertainment
Rotterdam is a dynamic city bustling with activity.  Attractions, festivals, concerts, theatre performances, and events take place throughout the year in the modern city center.  Rotterdam has a wide range of museums, cafés, restaurants, and other places of entertainment.  Activities are also organized on campus.
Shopping
There are many shops and shopping centers throughout the city.
Climate
The climate is typical of a maritime west coast:  unstable but moderate, with mild winters and cool summers.  Days with temperatures below 22°F or above 86°F are unusual.  Clouds and wind are common features.  The annual rainfall is moderate but unpredictable.
short-term programs
| | | | |
| --- | --- | --- | --- |
| Program | Program Dates   | Application Deadline | Academic Credit |
| International Week: Risk Management | April 8-12, 2024 | February 1, 2024 | N/A |
International Week
Rotterdam University of Applied Sciences offers an International Week with a study focus on risk management. You and your team will be assigned a real-life business case. You will work in a small group on a risk analysis and at the end of the week, you will present your analysis to a jury consisting of company representatives. You'll also attend special lectures and enjoy cultural activities during this exciting program.

Meals and Accommodations: Hostel accommodations and some meals are included in the program fee. All other meals are the student's responsibility.
Cost: 300 EUR, which includes accommodation, some meals, cultural activities, and local transport.