overview
A city of just under 12,000 people, Maryville is the perfect-sized college town. Maryville has a variety of restaurants from which to choose, big name retail stores, a unique movie theater, a bowling alley, and Mozingo Lake with 26 miles of shoreline. Northwest is a key part of the community, as evidenced by the Bearcat flags flying all over town.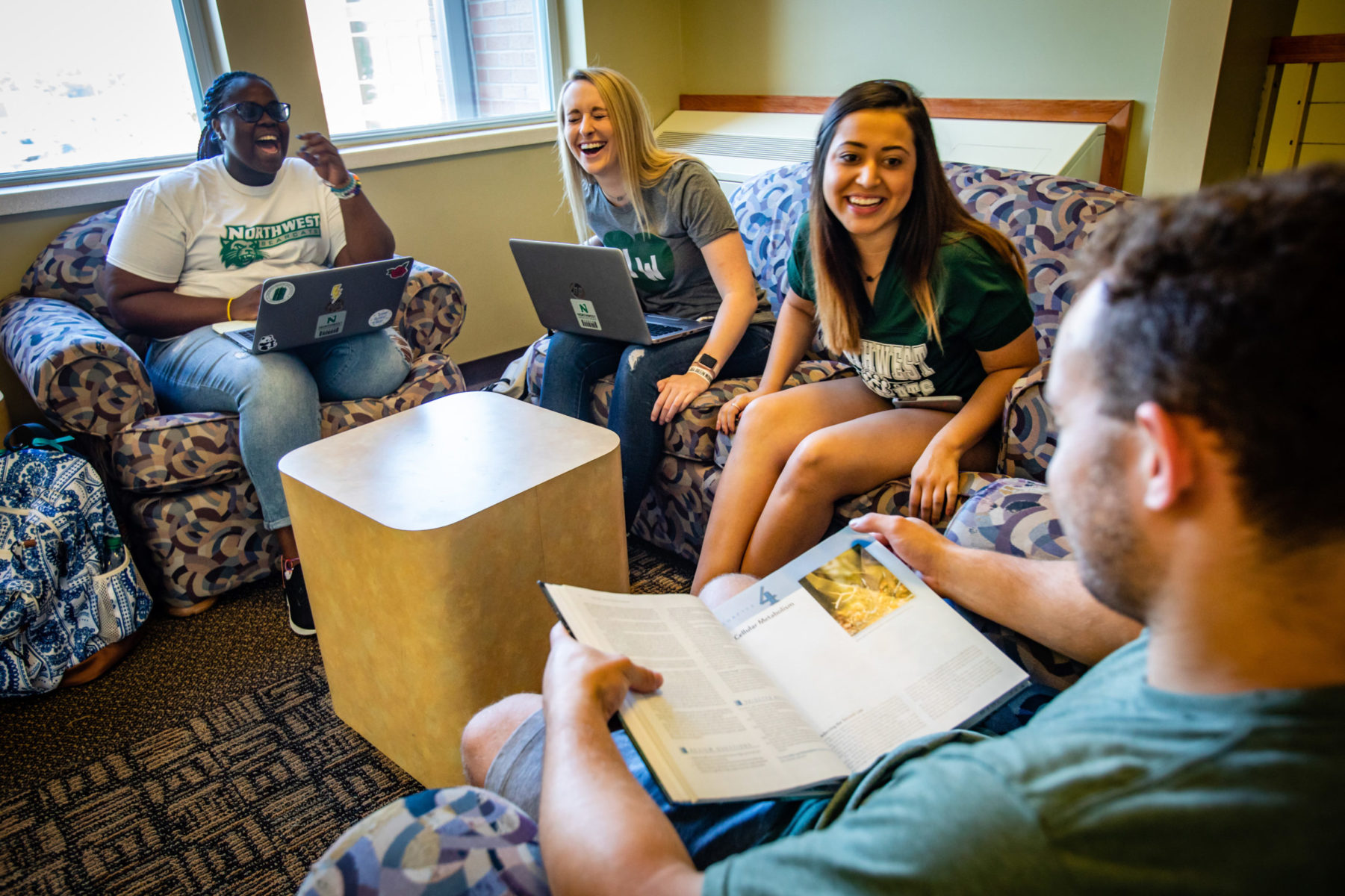 courses
Bachelor Courses in English

Business, Arts & Sciences, Education, and Human Services.  Students taking a full course load typically register for 15 credit hours, which represents 5 courses each of which meets 3 hours per week.  For access the course catalog, please click here.
Note:  Fine arts students needing advanced courses must submit a portfolio prior to the application deadline in order for a decision to be made regarding admittance to the program.
Master Courses in English
Computer Science, Information Systems, Applied Health & Sports Science.  Master-level students may participate for one semester in the fall or spring and can enroll in master-level courses and/or upper-level bachelor courses.  Students who are enrolled in a master-level degree program at the home university and who will only spend one semester at Northwest do not have to meet the usual GRE requirements. (Note: students who are not enrolled in a master-level degree program at the home university are not eligible.) To access the graduate course catalog, click here.
Thesis/Project Work
Not possible
academics
Accreditations
Northwest's accreditations are available online.
Orientation
Exchange students will be provided an exchange student application for Northwest, as well as a pre-enrollment form, after placement by the Magellan office.  These forms are due by June 1 (fall students) or November 1 (spring students).  Exchange students are required to attend the international orientation hosted by the International Programs Office; failure to arrive by the required date will result in being ineligible to enroll for classes.  It is mandatory that you bring to orientation your passport, I-20, and proof of insurance in order to obtain a Northwest student identification card.  The orientation at Northwest is a social event to immerse students in Northwest life.  You will be introduced to many offices and procedures, and you will have many chances to meet other international students.
Internships
Though placements cannot be guaranteed, unpaid on-campus internships can usually be arranged in the areas of web design and marketing.  Internships typically require a minimum commitment of 10-20 hours per week for 16 weeks.  Internships are an academic component; therefore, students must take a class in conjunction with their internship work.  Depending on the duration, academic credit of 1-6 semester credit hours (2-12 ECTS units) can generally be granted.
Part-time Employment
Limited opportunities for part-time on-campus employment are available at Northwest for semester exchange students.  Students may work no more than 20 hours per week and are paid $10.30 per hour.  Clerical, food service, and foreign language tutoring (French, Spanish) positions are sometimes available.
Students with Disabilities
Information is available online.
Grades & Transcripts
Northwest Missouri State University uses a four point/letter grade evaluation system.  Exchange students must request and pay $5 for a copy of their transcript.  Transcript requests are usually processed within 24-48 hours of the request.  There may be a brief delay in all grades being recorded at the conclusion of the semester.  When you request your transcript, you should specify if there is a deadline for receipt of your grades at your home institution.  All financial obligations to Northwest must be met before any transcript will be provided.  For additional details on transfer of credits, please refer to the Student Guidebook.
fees
Health Insurance
Northwest requires all international students to purchase health insurance through Northwest.  The insurance is administered through LewerMark Student Medical Insurance. The cost of insurance is approximately $775 for one semester.
Orientation Fee
$100.  This fee provides for airport pick-up upon arrival as well as for orientation.  The orientation includes information sessions about life at Northwest, academics, immigration information, entertainment, guided tours of campus, and help with textbook and laptop pick-up.
Housing Deposit
None.  All students must sign and return a room contract prior to arrival, but housing deposits are waived for Magellan students.
Textbooks
$0
Technology Usage
$0. All students will receive a laptop computer for use during their time at Northwest.  In addition, students will have access to electronic classrooms, instructional technology, internet in residence halls, and computer labs.
Official Transcript
$5, plus any requested delivery expenses.  This fee is paid at the conclusion of the exchange semester.
Immunizations
Meningitis and MMR (measles, mumps and rubella) vaccines are mandatory at Northwest.  Upon arrival, you will visit with staff from Wellness Services who will determine based on your health records (information needs to be attached or included in your health history form, which is due at least 10 days prior to your arrival) whether you need these vaccines.  In case Wellness Services finds you will need the required vaccinations, the costs are: $201 for meningitis and $148 for each MMR vaccine dose (2 doses required); prices are subject to increase.
In addition, all first-time foreign-born students and students who have lived outside the U.S. for more than three months in countries where tuberculosis is endemic MUST have documentation of a tuberculosis test administered in the U.S. within the past year.  There are no exemptions.  Prior BCG treatment does not change the requirement.  A chest x-ray will be required for anyone with a positive skin test.  DO NOT TAKE THIS TEST IN YOUR HOME COUNTRY.  The TB test cost at Northwest's Wellness Services is $145.
visas
All non-US citizens are required to obtain either an F-1 or J-1 visa to study in the United States. You should notify the Study Abroad Office when your visa is granted, or at least 10 days prior to your arrival.
video
logistics
Housing

Shared residence hall (Tower Suites and South Complex).  Double occupancy suites are furnished, and the international office assists with bed linens, towels, and phones.  Microwaves and small refrigerators may be purchased.  Dormitory rooms have internet access.  Housing contracts are due by July 1 (fall students) or November 15 (spring students).  Room assignments are based on availability; room assignment information is not provided to the Study Abroad Office until the week before classes start.  On-campus housing with a meal plan starts from approximately $5,593 per semester.
Meals
On-campus housing includes a meal plan.
Transportation

Kansas City, Missouri (MCI), is the nearest airport.  The Study Abroad Office offers airport pick-up (included in your orientation fee) on a designated arrival day each semester for those arriving prior to 10:00 p.m.  Students choosing to arrive after 10:00 p.m. will be charged $180.  Free drop-off will be provided on the Saturday after final exams.  If you arrive or depart on other days, you will have to pay for transportation to/from the airport.  An airport pick-up form must be returned to the Study Abroad Office at least 10 days prior to arrival.
There is no local public transportation; however, the university offers transportation to students.  A taxi service within Maryville is also available.
community
Entertainment
A five-screen movie theatre provides weekend entertainment as do several bars.  Cultural activities are most frequently sponsored by the university through its performing arts series and the Intercultural and International Center.  Much emphasis is placed on showcasing local talent, with participation in university theatre and musical organizations providing entertainment.  Church and civic organizations are the center of much social interaction, often for philanthropic purposes.  Maryville boasts 11 city parks with a wide range of sport facilities, including baseball, soccer, football, water sports (indoor/outdoor), and tennis; exercise/health club facilities are available both on- and off-campus.  Hunting and fishing are popular activities and have specific seasons, which require the purchase of a license.
Shopping
Maryville is compact with shops and restaurants in walking distance of campus.  Northwest offers a free shuttle service called SafeRides from campus to shopping areas and fast food restaurants.
Climate

Maryville has a temperate climate with four distinct seasons. Summers are hot and humid with high temperatures often over 30ºC.  Winters are cold with intermittent periods of snow, ice, and freezing rain, with average low temperatures of -15ºC and high temperatures of 0ºC.