overview
Located in southwestern Missouri, Springfield is known as the "Queen of the Ozarks" and is the birthplace of Route 66.  Conveniently located near major cities such as St. Louis and Kansas City, Springfield is a commercial city with its largest employers being healthcare services, education, automotive parts, food processing, and government offices.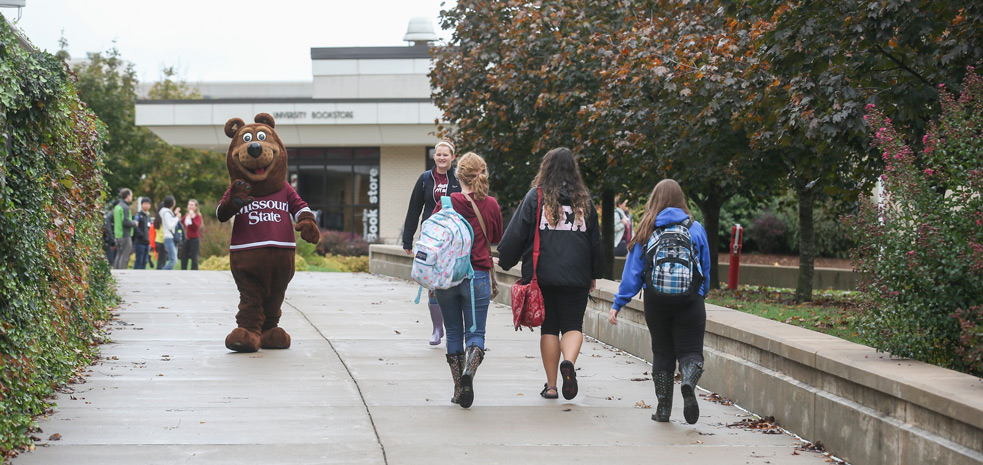 courses
Bachelor Courses in English

Business, Computer Science, Arts & Letters, Education, Environmental Sciences, Humanities & Public Affairs, and Natural & Applied Sciences.  Students must enroll in a minimum of 12 credit hours, which represents 4 courses each meeting 3 hours per week. A maximum of 15 credit hours is allowed. For class schedule information, click here.
Note:  Fine arts students needing advanced courses must submit a portfolio prior to the application deadline in order for a decision to be made regarding acceptance into the program.  Students interested in enrolling in design (DES) courses are typically granted enrollment with a portfolio and an in-person meeting upon arrival.
Note:  Engineering, nursing, physical therapy, and some education courses are not open to exchange students.
Master Courses in English
Master-level students are not able to be accepted.
Thesis/Project Work
Not possible
academics
Accreditations
The College of Business is AACSB-accredited.  Other university accreditations can be found online.
Orientation
An orientation will be provided upon arrival.
Internships
Limited paid and unpaid on- and off-campus internships are available.  Internships typically require a minimum commitment of 10-20 hours per week for 15 weeks.  Depending on the duration, academic credit of 3-6 credit hours (6-12 ECTS units) can generally be granted.
Students interested in an internship are advised to participate in Magellan for the academic year.  This will enable students to search for an internship and participate in interviews during the first semester and then complete the part-time internship during the second semester.  Please note that internships cannot be guaranteed, and students are solely responsible for locating their own placement upon arrival.
Part-time Employment
Limited opportunities for part-time on-campus employment are available for exchange students.  Students may work no more than 20 hours per week. Minimum wage is $12 per hour for campus jobs. Food service, facility maintenance, and library positions are sometimes available.  Students must obtain a Social Security number before beginning part-time work; this can take 4-6 weeks.
Students with Disabilities
Accommodations may be made for students with disabilities.
Grades & Transcripts
Missouri State University uses a four point/letter grade evaluation system.  Transcripts are generally available two weeks after the semester concludes; exchange students must request a copy of their transcript.  Requests are usually processed in 24-48 hours.  For additional details on transfer of credits, please refer to the Student Guidebook.
fees
Health Insurance
Health insurance through Missouri State is required.  You will be billed at the time of registration at MSU.  The cost is approximately $800 for one semester and $1,600 per academic year (9 months, September-May).  More information is available online.
International Student Fee
$75 per semester. This fee funds transitional support services, health and wellness advocacy, and academic success programs for the international student population.
Housing Deposit
$100.  Payable when applying for housing online, this deposit is required of all students staying in university housing and is used to secure a space. Housing is provided on a first come, first available basis, so it is best to apply for housing as early as possible.  This deposit is refundable at the end of the term, unless there is damage to the room or the contract is ended early.
Enrollment
Additional course fees may apply to courses in the College of Arts and Letters, including media, journalism, film-production, music, art, design, and museum studies courses.  Enrollment fees for courses within the College of Business are waived.  For more information, refer to the "Other Enrollment Fees" section.
Tuition Fee
Incoming students can enroll in 15 credit hours (30 ECTS) of bachelor coursework. The tuition waiver only applies to classes taught on-site.  Online courses are not included because they have a different tuition rate. International students who request an online class will have to pay the difference in tuition cost.
Textbooks
Approximately $500-700 per semester.  Textbooks may be purchased or rented from the university bookstore.
Official Transcript
One free copy will be sent to the home institution.  Additional copies may be requested at additional cost (approximately $10) after the conclusion of the semester.
visas
All non-US citizens are required to obtain either an F-1 or J-1 visa to study in the United States.
video
logistics
Housing
Shared dormitory.  Magellan students are generally housed in on-campus, shared dormitory facilities, which may vary from simple rooms with bath down the hall to suites with full kitchen and comfortable amenities.  Access to kitchen facilities varies with the type of accommodation chosen; a variety of meal plans may be purchased.  It is possible to purchase or rent microwaves and refrigerators.  Bed and bath linens are not provided but can be reserved in advance.  On-campus, shared dormitory rooms must include a meal plan.  A room and a meal plan ranges from approximately $4,250-$5,250 per semester. There are other options that could increase the price further.  Living expenses may differ depending on choice of room, meal plan, and personal spending habits.  Campus housing is within walking distance to classroom facilities; there is also an on-campus shuttle bus system available free of charge.  Additional information about on-campus housing and meals is available online.
All students who reside in on-campus MSU housing are required to have received the meningococcal vaccine not more than 5 years prior to the date of enrollment at the university. Missouri law requires that the meningococcal vaccine received by the student be in accordance with the latest recommendations of the Advisory Committee on Immunization Practices of the Centers for Disease Control and Prevention (CDC Advisory Committee).  In addition, In compliance with directions of the World Health Organization (WHO) and the United States Centers for Disease Control (CDC), MSU requires tuberculosis screening for international students staying in on-campus housing. Upon arrival, an appointment is made for the student at MSU's health center to have the required Tuberculosis Screening (TB).
Meals
Meal plans must be separately purchased by the student when living in campus apartments. Most international students live in Sunvilla and have the option to purchase a meal plan. There are also many casual dining and fast-food restaurants near campus and throughout the city. Dining dollars are also available to use at various restaurants on campus and interchangeably with the meal plan.
Transportation

Flights into Springfield, Missouri (SGF), require travel via other cities, such as Atlanta, Chicago, or Dallas; these larger cities allow for easy connections to other parts of the U.S. as well as to international destinations. MSU provides airport pick-up service during designated times.
There is no passenger rail service to/from Springfield.  The city has a limited public bus service, several taxi services, inter-city buses, and private transfer services to meet transportation needs within and outside of the city.
community
Entertainment
Various student organizations are available for international students. Organizations of special interest for international students include International Friends and Global Leaders and Mentors (GLAM).  Located on campus, a full-service recreation center includes an aquatics center, basketball courts, climbing wall, and fitness center provided at no additional cost. Wellness and group exercise classes are available for an extra charge. Equipment may be rented. Access to sand volleyball courts, turf fields, and racquetball courts are also available. The Student Activities Council (SAC) provides entertaining, cultural, and leisure events to complement the students' academic experience and act as the student's voice. SAC hosts many events throughout the year for students to enjoy.
Within Springfield, numerous restaurants and bars are available.  A host of cinemas complement local live theater performances, dance troupes, and musical organizations in providing entertainment and cultural events.  Sport facilities include an indoor ice park, outdoor skate park, world team tennis, minor league baseball, and on-campus recreation facilities. Springfield has many parks for outdoor recreation and golfing as well as a botanical center.  Greenways trails throughout the city host bicycling, running, and walking.  Springfield is home to several museums, including a railroad museum and sites related to the Civil War.  Annual festivals celebrating different aspects of life in southwest Missouri provide other entertainment options.  The country music attractions of Branson (60 km south) and outdoor activities at nearby Lake of the Ozarks are also convenient.
Shopping
Small shops, discount stores, and shopping malls are abundant, although not always near campus.  Malls and larger stores are open every day.
Climate

Springfield has a temperate climate with four distinct seasons.  Summers are hot and humid with high temperatures often over 30ºC. Winters can be cold with intermittent periods of snow, ice, and freezing rain; during winter, average lows are -6ºC and average highs are 3ºC.