overview
Lapland University of Applied Sciences operates in Finnish Lapland by the Arctic Circle, with premises in the towns of Rovaniemi, the home of Santa Claus; and in Kemi and Tornio in Southern Lapland close to the Swedish border. Lapland UAS is the EU's northernmost university of applied sciences and offers a modern and international learning environment with good services for students, staff and visitors, in a unique environment offering periods of perpetual daylight and twilight, as well as the northern lights.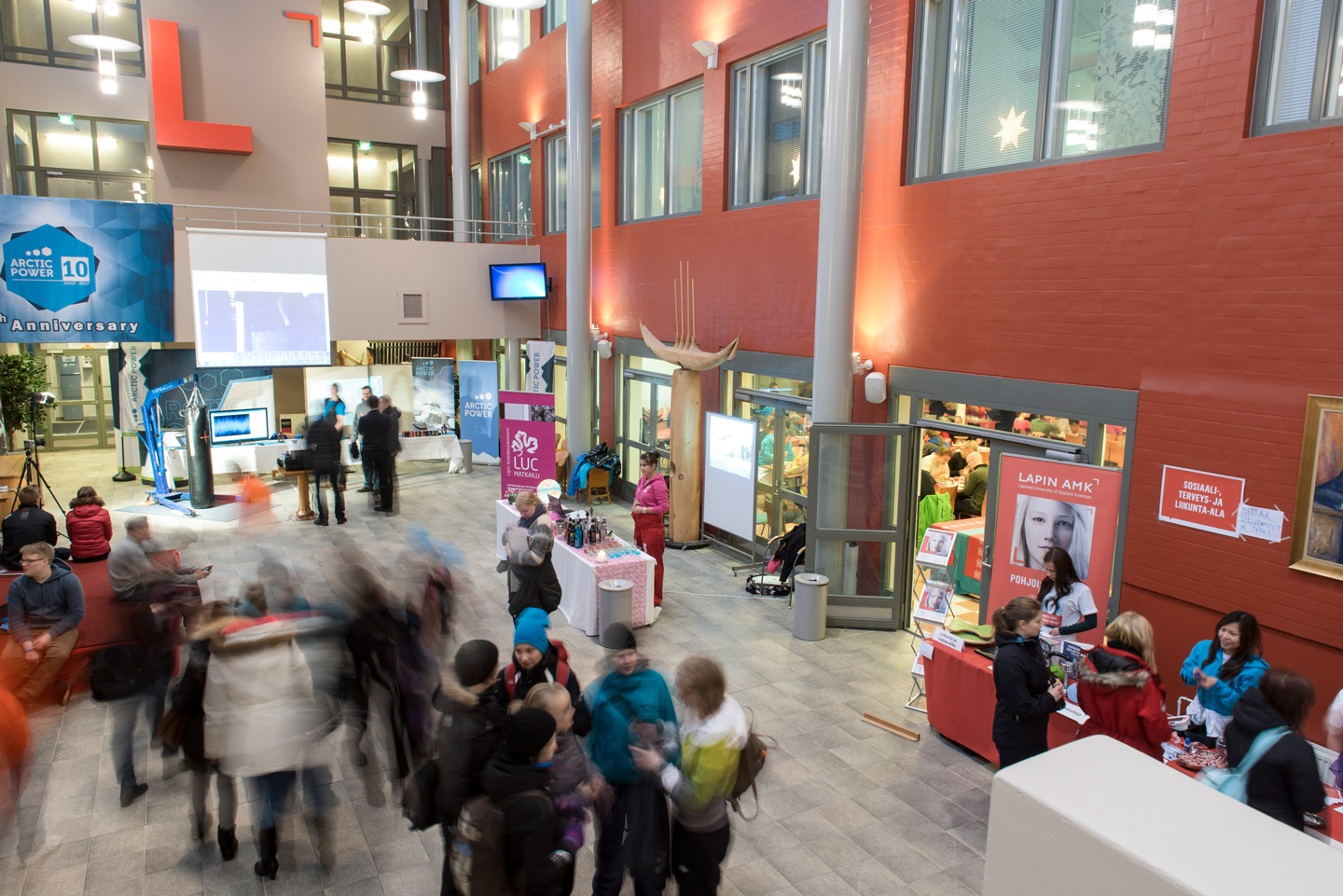 courses
Bachelor Courses in English

Business & Administration, Business Information Technology, Electrical Engineering, Mechanical Engineering, Civil Engineering, Land Surveying, Health Care (Nursing) & Sports, Social Services, Culture, Forestry & Rural Industries, and Tourism & Hospitality Management.  Students must register for 30 ECTS units, or 15 credit hours.  For more information about courses taught in English, click here or here.
Note: Students are recommended to choose courses that match their studies at home.  Also, if students would like to have guided/clinical practice, it must be requested before placement; this type of internship/guided practice cannot be guaranteed and is evaluated on a case-by-case basis.
Master Courses in English
International Business Management.  Master-level courses are offered online during the evenings only; therefore, it is recommended that exchange students enroll in a mixture of bachelor and master-level courses so that they may have some face-to-face courses.  A full load is typically considered to be 30 ECTS units, or 15 credit hours.  For more information about the master-level program, click here, or for more information about courses, click here.
Language Courses
All exchange students can take a beginner Finnish language course.
academics
Accreditations
Information can be found here.
Orientation
Before classes start, you will attend an orientation to learn general information about Finland and matters related to studying in Finland and at the university.  In addition, international student tutors are assigned to each international student to aid in adjusting to the local life and Finnish culture.  Depending on your date/time of arrival, they may be able to pick you up at the bus/train station or airport and take you to your accommodation.  They will be able to show you around and will guide you through your first week of activity; they can also help you take care of general matters, such as obtaining a student card.
Internships
Limited unpaid internships can sometimes be arranged in the areas of nursing, technology, and business.
Students with Disabilities
It has been made possible for all physically challenged to move within all buildings of campus.  Other special needs should be discussed separately.
Grades & Transcripts
The university uses the Finnish 1 to 5 point grading system as follows:
| | | | |
| --- | --- | --- | --- |
| 5 | A | Excellent | Top 10% |
| 4 | B | Very Good | Next 25% |
| 3 | C | Good | Next 30% |
| 2 | D | Satisfactory | Next 25% |
| 1 | E | Sufficient | Lowest 10% |
The minimum passing grade is 1, or E.  ECTS letter grades are shown on the transcript as well as Finnish numeric grades.  For additional details on transfer of credits, click here or refer to the Student Guidebook.
A transcript will be automatically sent to the student's home school Magellan coordinator after the exchange period.
fees
Health Insurance
Students are required to have health insurance.  Students should purchase this coverage and provide proof of coverage prior to arrival.
Textbooks
No cost
visas
Students planning to stay in Finland for more than three months must apply for a residence permit prior to entering Finland.  Additional details are available.
video
logistics
Housing
Single/shared apartment.  The university recommends that all exchange students apply for accommodation from Domus Arctica Foundation, a student housing organization.  With DAS, exchange students are accommodated at the Ounasvaara area (Kuntotie area) in an apartment with a private or shared room with shared kitchen and toilet facilities. Apartments are furnished and include internet, but they do not include blankets, pillow, linens, or kitchen utensils. DAS offers various amenities, such as a fitness room, laundry facility, clothes-drying room, sauna, outdoor barbecue, ping-pong/billiards facility, and clubhouse.  Monthly expenses for room, board, leisure activities, and personal expenses are approximately 450-700 EUR. Additional information is available online.
Meals
The campuses have an inexpensive student cafeteria where you can buy hot meals as well as coffee, tea, pastry, and sweets.  A meal in the student cafeteria consists of hot food, bread, and salad.  There is usually a choice of three different kinds of food, one of which is vegetarian.  You will have a student card which allows you to buy meals at the student price (approximately 2.50 EUR).  Usually, students eat one hot meal a day in the cafeteria and prepare their other meals at home.  In addition, there are many different types of available restaurants, including Chinese, McDonalds, chicken wings, kebab, pizza, and more.  You can also find Finnish specialties, such as reindeer stew and smoked salmon in restaurants.  The restaurants usually open around 11 a.m. and close around 11 p.m.
Transportation

Fly into Rovaniemi from Helsinki (e.g., www.finnair.fi, www.norwegian.com); the flight time is approximately one hour.  You may also take a train from Helsinki to Rovaniemi; this is about a 12-hour journey, so it is advisable to take a night train and reserve a space in the sleeping car.  Bus service is available from Helsinki, but it is not recommended due to the price and length of the trip.  You may also be able to connect by plane into cities closer to Rovaniemi, such as Oulu, and take a bus or train the rest of the way to Rovaniemi.
Once in Rovaniemi, you can easily go places by walking, or you may buy a used bicycle for about 50 EUR.
community
Entertainment
Downtown Rovaniemi has an assortment of specialty shops, restaurants, bars, souvenir shops, and malls with department stores.  Clubs and pubs offer all kinds of bands/live music, as well as disco music and other shows.  The city civic center has a public library and art gallery; there is a nearby seasonal open-air theatre on the river.  Ski slopes, reindeer farms, Santa Claus Village, the Arktikum Museum, Pilke Science Center, Korundi House of Culture, the Forestry Museum, and the Marttiini knife factory are major points of interest.  Rovaniemi offers a wide range of outdoor and other sport possibilities, such as hiking, canoeing, and golf (and winter ice golf on the rivers).  The university offers students a large variety of different sport activities with a small charge.  There is also a popular rock festival in the summer in Rovaniemi.  The dancing aurora borealis (northern lights) is a unique experience, with the best viewing from October to April.
Shopping
There are many specialty shops and souvenir shops downtown, as well as two malls.   Shopping hours are generally 9 a.m. to 6 or 7 p.m. Monday through Friday and 9 a.m. to 2 or 3 p.m. Saturday.  Stores are typically closed on Sundays, but grocery stores are usually open every day.
Climate
Rovaniemi enjoys 24 hours of daylight during the summer, with temperatures ranging from 55ºF to 85ºF.  Snow season is from October to May, but the dry cold is quite tolerable with appropriate layers of clothing.  Winter temperatures range from -10ºF to 30ºF.