overview
International Business Academy (IBA) is located in the 7th largest Danish city: Kolding. Situated on the mainland of Denmark and less than an hour from Germany, Kolding is conveniently located for rail and air transportation.  Rich with culture and a thriving business sector, Kolding is also surrounded by a beautiful countryside, close to woods, water, and beach. Therefore, there is a diverse range of outdoor attractions, such as sailing, kayaking, picnicking, and enjoying the city's parks and green spaces.  Almost everyone in Denmark speaks excellent English.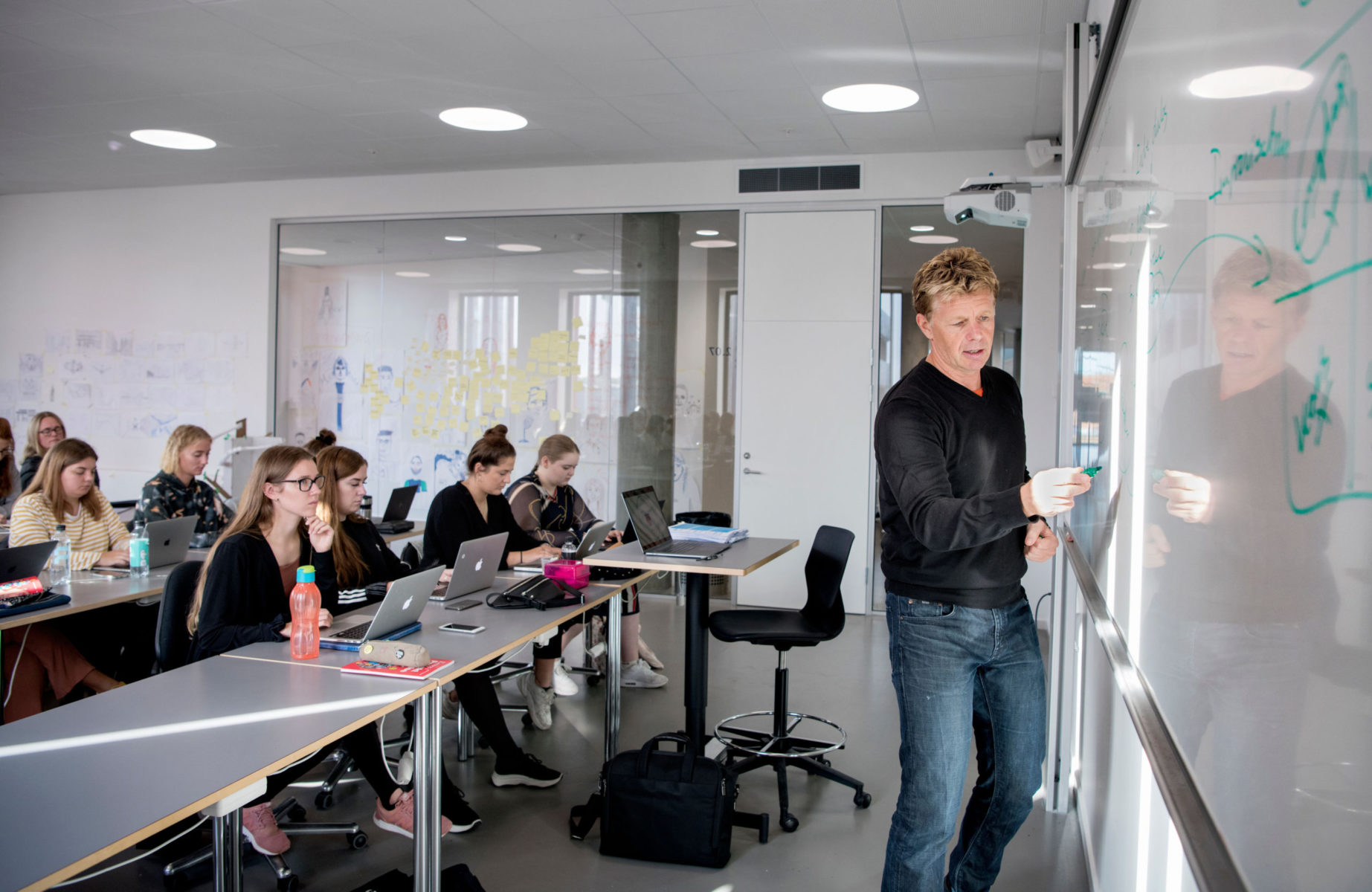 courses
Bachelor Courses in English

Marketing Management; International Sales and Marketing Management (fall semester only); Multimedia Design & Communication (fall semester only).  Each program offers 30 ECTS credits (15 US credit hours).  Students may choose one of the above study programs but cannot select individual courses amongst multiple programs; the full program for the semester must be followed.  More information can be requested by email.
NOTE: All programs/courses conclude in January. Fall semester final examinations can usually be administered by your home university in January after return to your home campus; however, this cannot be guaranteed in advance.  Therefore, you are advised to speak to your home school prior to applying for the fall term to determine if you can begin the spring semester late in the event your exams must be taken in Kolding in late January.
Master Courses in English
Master-level students are not able to be accepted.
Language Courses
Students have the option to participate in a free Danish language course offered by the municipal language school conveniently situated across from IBA. There is a deposit required to start the course, which is refunded after successful completion.
academics
Accreditations
The IBA is a higher education institution within the Danish State Education sector and is regulated by the Ministry of Higher Education and Science. Additionally, the IBA, due to partnership with two UK universities (Coventry University and Leeds Beckett University), is validated to deliver UK degrees at the undergraduate and postgraduate levels. IBA is a part of the Network of International Business Schools (NIBS) and is closely allied to local, national and regional education institutions, networks and business organizations. More information can be found here.
Orientation
The introduction program offered at the beginning of each semester incorporates tutor and buddy programs.  Prior to arrival, every exchange student is offered a 'buddy' who will assist with getting through the first few weeks.  This buddy can assist with arrival pick-up in Kolding as well as offer advice on practical matters.  Upon arrival, the introduction program offers exchange students the opportunity to meet with staff, learn about courses and how to study in Denmark, as well as obtain access to the IBA online and other relevant information.  Finally, exchange students also participate in a range of social and cultural activities.
Internships
Paid and unpaid off-campus internships can usually be arranged in the areas of web design, research, computers, marketing, retail, and finance.
Part-time Employment
Non-EU/EEA students are allowed to work in Denmark part-time and full-time during the summer months (June, July, and August).
Students with Disabilities
The IBA is usually able to accommodate a student with a physical or learning disability; however, to some extent it depends on the situation. Please contact the IBA to inquire. Typical student accommodations as well as shops and services in the community have somewhat limited capability of accommodating students with disabilities.
Grades & Transcripts
The Danish education system is of a high standard and very rigorous. However, it is relatively informal in delivery and involves considerable student interaction and independent learning. Teaching and learning frequently take place in small groups using case studies and industry-relevant topics.  Assessment may consist of a combination of written and oral exams and written assignments.  If an exam is scheduled after completion of the course, arrangements can usually be made with the agreement of the home university for this to take place after students have returned home.
The IBA uses a Danish grading scale that corresponds to the US grading system as follows.
| | | | |
| --- | --- | --- | --- |
| Danish Grade | US Grade | Danish Grade | US Grade |
| 12 | A+ | 02 | C-, D+, D |
| 10 | A, A- | 00 | D-, F |
| 7 | B+, B | -3 | F |
| 4 | B-, C+, C | | |
A passing mark is 02.  Under Danish national regulations, students failing to pass on the first attempt have an automatic right to two further attempts, after which any subsequent attempt is possible only in exceptional circumstances.  For additional details on transfer of credits, please refer to the Student Guidebook.
Students will automatically receive a transcript for their work as exchange students at the IBA.  Transcripts are sent to the home university shortly after the end of the semester.
fees
Health Insurance
Travel health insurance is required only for the first couple weeks of your stay in Denmark, after which you are covered by the Danish national health insurance system, provided you are registered at a fixed address. More information is available here.
Introduction Program
There may be a small fee for some of the introduction program activities.
Textbooks
No cost
visas
If you are a non-EU/EEA citizen, you normally need to apply for a Residence Permit prior to your arrival in Denmark. If you are an EU/EEA citizen, you must instead apply for an EU residence document after your arrival in Denmark.
video
logistics
Housing
Apartments.  Students are recommended to apply for accommodation through Kolding City Housing Administration, a database which controls and reserves student apartments based on a waiting list. International students will normally have priority over students who already live in Denmark, and it has generally not been difficult to find apartments in Kolding. All the apartments in the database have their own bathroom; they are not furnished but they will have a minimum of a refrigerator and cooking plates (or an oven).  There are many secondhand stores, as well as a Facebook IBA Market page, which makes finding inexpensive furnishings easy.  You can also find further possibilities for accommodation/private housing here or here. You can search for furnished rooms here.
Rent in Kolding varies depending on if you want to live alone or in a shared apartment. The rent for student accommodation starts from approximately DKK 3000 – 4000 (approximately $440-580) for a studio apartment. The rent usually includes the cost of the average consumption of water and heating, and a surcharge may be levied if this is exceeded. Electricity is not included in the rent.  The minimum total living expenses for an average student in Denmark are estimated to be approximately DKK 7,000 per month (approximately $1,015).
It is important to note that in Denmark rent is always paid in advance for the coming month. If the rent is paid later than the date stated in the monthly bill, an additional fee will need to be paid later. In addition to the first month's rent, tenants must pay a deposit prior to moving in, which is equivalent to approximately three months' rent.
Meals
Typically, students prepare meals in their apartments. Additionally, Kolding offers a variety of cafes and snack bars. IBA also features an on-site canteen that serves daily hot meals, offering a range of food choices including vegetarian options. However, vegan options are currently limited.
Transportation

The closest airport is Billund, one hour by bus to Kolding.  If flying into Copenhagen or Hamburg, Kolding can be reached by train in approximately 2.5 hours.
Once in Kolding, you will be able to travel easily by bus, bike or on foot.
community
Entertainment
There are a variety of activities planned for exchange students in conjunction with the introduction program offered upon arrival.  The IBA Student Life plans many activities and social arrangements for students throughout the semester.  There are also numerous opportunities for socializing within Kolding since there is a relatively large number of students within the city.  Numerous cafes, galleries, museums, and discotheques are also available.
Shopping
There are many shops and supermarkets within the pedestrian streets of Kolding.  The city also has a large shopping center with cafes, a cinema, and more than 120 stores.
Climate
Denmark has a temperate coastal climate, marked by warm summers and mild winters.  High temperatures in the winter are typically 35-40ºF, while highs in the summer range from 65-70ºF.  Due to Denmark's northern latitude, there are large differences between winter and summer daylight hours.
short-term programs
| | | | |
| --- | --- | --- | --- |
| Program | Program Dates   | Application Deadline | Academic Credit |
| Various International Weeks: Marketing, Multimedia or Finance | March 18-22, 2024 | January 12 | N/A |
International Weeks
The IBA offers 3 International Weeks, each with a different study focus: marketing, multimedia or finance. Attend special lectures and enjoy cultural activities during one of these exciting programs.

Meals and Accommodations: Accommodations are included in the program fee. Breakfasts, lunches and two dinners are also included. All other meals are the student's responsibility.
Cost: 290 EUR, which includes accommodation, breakfasts, lunches, 2 dinner, and local transport.