overview
The small community of Madison is nestled between two lakes 50 miles northwest of Sioux Falls, South Dakota's largest city.  Madison is a vibrant, safe community with small town charm but all the necessary amenities of a larger city.  Visitors can enjoy the picturesque scenery, as well as lakes, recreation areas, parks, and hiking trails.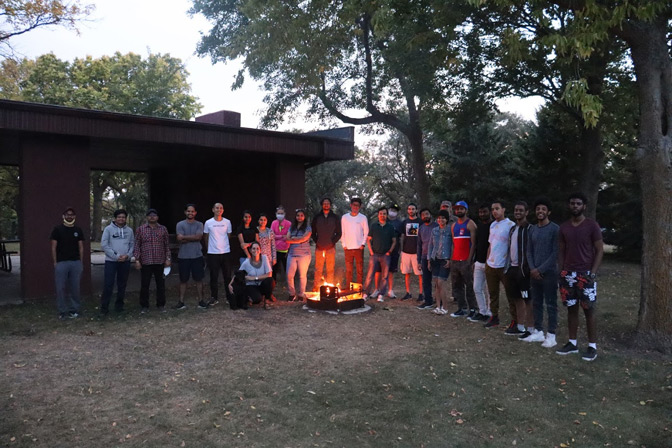 courses
Bachelor Courses in English

Business & Information Systems; Arts & Sciences; Education. You will typically enroll in 12-15 credit hours, which represents 4-5 courses, each meeting 3 hours per week. For a list of available courses, click here. DSU is nationally recognized for Cyber Security, Computer Science and Cyber Operations.
Master Courses in English
Master-level students are not able to be accepted.
Thesis/Project Work
IT & Information Security.  Bachelor students interested in working on their thesis or final project may usually do so.  DSU can generally arrange a faculty advisor.  Up to 3 credit hours of credit can usually be granted (6 ECTS).  Students must enroll in and be motivated to successfully complete full-time courses along with their thesis/project work.
academics
Accreditations
Information about Dakota State's accreditations can be found here.
Orientation
All exchange students are required to attend the new student orientation, which is a one-day orientation held the week before classes begin.
Internships
Not possible
Part-time Employment
There are limited part-time employment opportunities for exchange students. When available, these positions are typically found in different departments located across campus and include positions such as food service/catering, tutoring, and community center jobs (e.g., life guarding).
Students with Disabilities
Information is available online.
Grades & Transcripts
Dakota State uses a four point/letter grade evaluation system. For additional details on transfer of credits, please refer to the Student Guidebook.
Students must request an official transcript to be sent to their home institution.
fees
Health Insurance
All exchange students must purchase health insurance through the university. The approximate fee is $80 per month, depending on the age of the student.
International Student Fee
$150 per semester. This fee provides for document processing, airport pick-up from Sioux Falls, orientation, transportation to/from the Social Security Administration office, and various programs/activities each semester.
Textbooks
Approximately $300-500 per semester
Official Transcript
$9. This fee should be paid prior to returning home.
Immunizations
All students must demonstrate immunity to measles, mumps, and rubella (MMR) before registering for classes.  If the vaccination process is not fully completed before arriving in the U.S., the second vaccination can be administered in the health center on campus for $200 (the first vaccination must be completed at home).
visas
All non-US citizens are required to obtain either an F-1 or J-1 visa to study in the United States.  DSU sponsors F1 visas.
video
logistics
Housing
Shared on-campus residence hall or off-campus apartment. On-campus housing costs range from approximately $1,900-$2,500 per semester.  Internet access and basic cable television are included.  Each residence hall has its own laundry facilities.  Students who are 21 years of age and older may locate their own off-campus housing, if they prefer.
Meals
Meal plans are mandatory for all students living in the residence halls.  Plans range from approximately $1,350-$1,900 per semester.  Third year students and above may opt for the Trojan Advanced Plan, which is approximately $1,000 per semester.  There are also other meal options available in the community.
Transportation

Fly into Sioux Falls (South Dakota) Regional Airport.  A university representative can meet students at the airport with advance notice.
community
Entertainment
The beautiful South Dakota landscape allows many outdoor activities for each season.  Camping, boating, and fishing are possible during the summer, while snowshoeing, skiing, and ice fishing are possible in the winter.  Visitors can enjoy sites in Madison such as Prairie Village, a living history museum; or visit the Community Center to enjoy racquetball courts, a climbing wall, a swimming pool and waterslide, and more.  The city is also home to parks and recreation areas which offer tennis courts, soccer fields, and skating rinks.
Shopping
Historic downtown Madison offers boutiques, bookstores, antiques, bakeries, and more, while other shopping options are available elsewhere in Madison, as well as in Brookings (approximately 30 minutes away).
Climate

Summer weather is hot and humid, with temperatures ranging from 26-32°C; winter is relatively cold and dry with temperatures around -6-0°C.