overview
Located near Nashville, Clarksville is surrounded by natural beauty and offers city living amenities and an array of opportunities for outdoor recreation. Within the city and surrounding area, people can enjoy hiking, kayaking, parks and recreational areas, and arts and culture. With a rich history, picturesque riverfront and interesting downtown architecture, Clarksville offers a variety of things to see and do.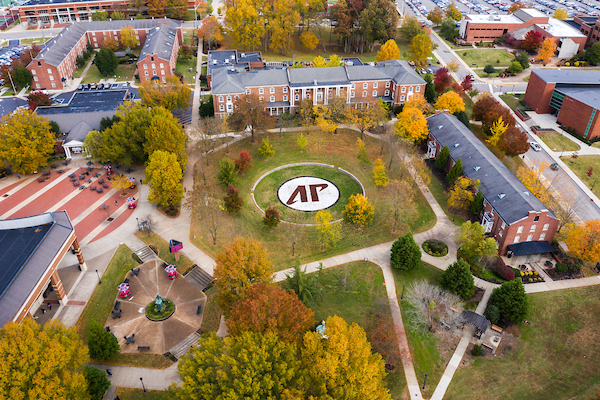 courses
Bachelor Courses in English

Arts & Letters; Business; Behavioral & Health Sciences; and Science & Mathematics.  Students taking a full course load register for 12-15 credit hours, which represents 4-5 courses each meeting 3 hours per week.  For a list of available courses, click here.
NOTE: Exchange students are not eligible to enroll in nursing, medical technology, radiological technology or teaching courses. Exchange students may only enroll in Main Campus (Clarksville) courses.
Master Courses in English
Master-level students are not able to be accepted.
Thesis/Project Work
Not possible
academics
Accreditations
Austin Peay's accreditations are available online.
Orientation
A mandatory orientation is held during the week before classes begin and is designed to formally welcome students, orient them to campus, and introduce them to key services.  In addition, Office of Study Abroad and International Exchange invites all exchange students to join the Bridge Program. The Bridge Program is a peer-mentor group of both international students and domestic students enrolled at APSU.  It is designed to help international students explore American culture and history while teaching First Friends (domestic students) about the culture and history of their countries. First Friends also help international students navigate campus life and culture. This is accomplished through monthly discussions, educational activities, and group excursions.
Internships
Not possible
Part-time Employment
Not possible
Students with Disabilities
More information is available here.
Grades & Transcripts
Austin Peay uses a 4.0 grading scale.  Students will receive a transcript at the conclusion of the exchange term.  For additional details on transfer of credits, please refer to the Student Guidebook.
fees
Admissions Fee
$25. All exchange students must apply and be accepted for undergraduate admissions.
Health Insurance & Immunization
Approximately $140/month.  International students must provide proof of immunization and medical insurance as a part of the admissions process or purchase a policy through the university.
Textbooks
$500-$700.  Books can be purchased new or used. Students also have the option to rent some books from the campus bookstore at a fraction of the cost.
Transcript
$0-$2.85.  Students may request copies of transcripts from the Office of the Registrar at any time permitting there are no holds on the account. There is no charge for transcripts unless you request a secure, electronic PDF transcript.  A convenience fee of $2.85 is charged by the vendor, Parchment, to have transcripts sent electronically.  Transcript requests will be processed in the order received.  Please allow 5-7 business days to process transcripts submitted through AP OneStop.
visas
All non-US citizens are required to obtain either an F-1 or J-1 visa to study in the United States.
video
logistics
Housing
Apartments and residence halls.  Exchange students are required to live on campus in apartments, shared suites or private rooms.  Prices vary based on facility and private/share options but range from approximately $3,370-$3,985/semester, including utilities, internet, cable television, and laundry machines.
Meals
There are various dining options located near the residence halls. Meal plans are purchased at the start of the semester, and students use their identification cards to "pay" for meals. A meal plan is required and ranges from approximately $1,115-$2,340/semester.
Transportation

Fly into Nashville, Tennessee (BNA). Make travel arrangements from the BNA-Nashville International Airport to Clarksville, Tennessee. The average travel time from BNA to APSU is 45-60 minutes. The Office of Study Abroad and International Exchange will try to arrange transportation for you from the airport if you use the airport pick-up form. Please book your arrival time between the hours of 8 a.m. and 8 p.m. and request this option at least 2 weeks in advance of your arrival date.
community
Entertainment
Clarksville is surrounded by natural beauty, the amenities of city living and an array of opportunities for outdoor recreation.  The University offers more than 70 student organizations, including social groups, professional associations and honor societies. Students also can participate in a variety of free activities, such as fitness classes, scholarly discussions and movie nights.
Shopping
A variety of food and retail outlets are available on campus and throughout the city.   Most businesses are open from 9am – 5pm Monday to Friday.  Larger shopping outlets are open during the evenings and/or weekend.
Climate
Summer temperatures average between 30-32ºC, while winter temperatures average -2-10ºC.