overview
The university, with a student population of about 5,500, is located in Anyang, about 20 kilometers/12 miles south of Seoul.  The city is a convenient transportation hub between Seoul and other major cities in the country and has a mixture of areas:  an older downtown, a shopping area with outdoor markets, and a more upscale area.  Anyang is one of the most populous cities in the country and is surrounded by beautiful scenery and mountains.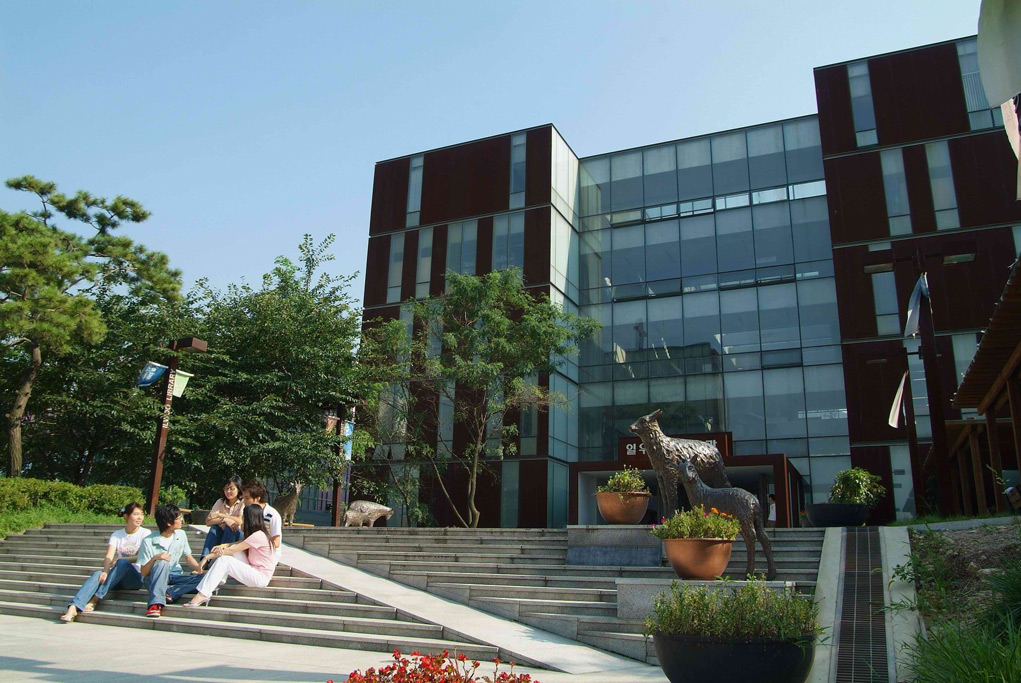 courses
Bachelor Courses in English
Liberal Arts.  Students must register for 12-18 credit hours, which represents 4-6 classes. You are required to enroll in the Leadership Discovery and Cross-Cultural Communication Practicum courses.  Course descriptions for the fall semester and spring semester are available.
NOTE: Students may only be accepted for one semester.
Master Courses in English
Master-level students are not able to be accepted.
Language Courses
A basic Korean language course may be available, depending on a minimum of 10 enrolled students.
academics
Accreditations
Anyang University is accredited by the Korean National Ministry of Education, Science & Technology.
Orientation
A mandatory orientation program is offered for international students in the fall and spring semester, generally on Thursdays prior to the start of each semester.  For details, contact the Center for Global Education.  You will be paired with a buddy prior to arrival; this buddy will be a local student who will help you adjust to your new cultural experiences.
Internships
Not possible; however, the university can arrange student teaching practicums for ESL students.
Part-time Employment
Not possible
Students with Disabilities
Anyang University is not easily accessible for students with physical disabilities.
Grades & Transcripts
Anyang University uses a 4.5 letter grade point evaluation system.
| | | |
| --- | --- | --- |
| Letter Grade | Score | Points |
| A+ | 95-100 | 4.5 |
| A | 90-94 | 4.0 |
| B+ | 85-89 | 3.5 |
| B | 80-84 | 3.0 |
| C+ | 75-79 | 2.5 |
| C | 70-74 | 2.0 |
| D+ | 65-69 | 1.5 |
| D | 60-64 | 1.0 |
| F | 0-59 | 0 |
Transcripts are generally available three weeks after the semester concludes; you must request a copy of your transcript.  Transcripts are 1USD per copy, plus mailing fees, if necessary. Requests are usually processed in 24-48 hours. For details on the transfer of credits, please refer to the Student Guidebook.

scholarships
Anyang University usually offers 6 scholarships per semester to Magellan students. Applications are accepted for one semester only. If selected for a scholarship, a stipend will be disbursed at regular intervals after students receive their alien registration cards and open bank accounts (usually about one month after arrival). The total stipend for the semester is 400,000 KRW (approximately 280 USD).
To apply, select Anyang University as your first institutional choice on your Magellan application, and include an essay about why you wish to participate in the program and why you should be selected for a scholarship in the "Essay" section of your Magellan application. Please note that students may only apply for a one-semester placement.
fees
Health Insurance
All international students must show proof of international health insurance.
Textbooks
Approximately 75,000 KRW per semester (approximately $70/55€).
Alien Registration Card
35,000 KRW (approximately $30/26€)
visas
Exchange students studying in Korea must obtain a D-2 student visa. For more information, please contact the nearest Korean Consulate/Embassy.
video
logistics
Housing
Coed shared house.  You will live in a pre-arranged, shared, furnished house near campus.  The cost for one semester of housing is 800,000 KRW (approximately $720/590€) and is due by the second week of the semester.
Meals
There is a student cafeteria (approximately $2 per meal) on campus, and near campus there are many choices for meals (from $3). The house has a kitchen, so cooking meals can help reduce the food budget.
Transportation

Fly into Seoul.  Anyang is strategically located just outside the capital metropolitan area and can be reached with the mass transit system.  You will be able to use buses and rail to get around Anyang and the rest of the country throughout your stay.
community
Entertainment
Several festivals, including art and culture, occur annually in Anyang.  The city is also home to a sports complex which includes a soccer field, swimming pools, rock wall, and ice hall.  Nightlife, parks, movie theatres, restaurants, shopping, art, and activities on and off campus are abundant.  Seoul, the dynamic capital of South Korea, is located nearby, offering an intriguing mix of ancient and modern.
Shopping
The city of Anyang has a shopping area with outdoor markets as well as a shopping mall, supermarkets, and department stores.
Climate
Generally, Anyang has a mild climate; the winters are dry and cold, while the summers are hot and humid.