overview
Aachen is the western-most city in Germany and is located in the "Three Countries Corner" where Germany, The Netherlands and Belgium come together. Aachen was established as a Roman city and became the capital of Charlemagne's empire. The Cathedral of Aachen was the coronation site of German kings from the 700s to 1521. During the Industrial Revolution, Aachen became an important cloth producing city. Today, it is known for its technology-related industries, chemicals and rubber products, food processing (including chocolate), and the spa industry, utilizing its hot sulphur springs.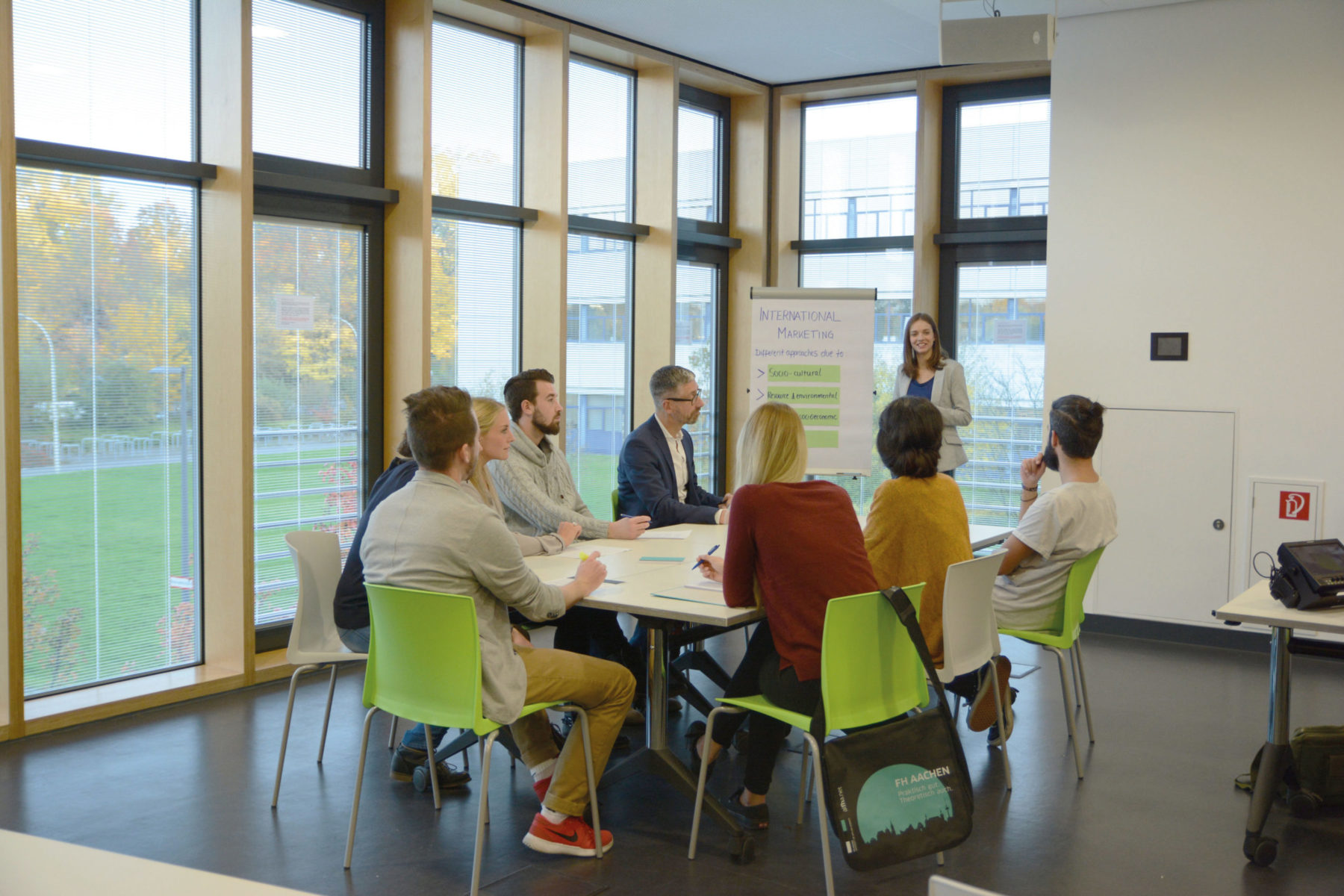 courses
Bachelor Courses in English
Business, Engineering/Technology.  Students taking a full load of courses register for 30 ECTS units (15 credit hours), which may include 3 to 6 different courses. To view courses taught in English, click here.  In general, there are some basic level, "bridging" courses available within the energy systems, biomedical engineering, and nuclear chemistry master programs, which are open to advanced-level bachelor students; these courses are taught on the Juelich campus.
NOTE: You should plan to attend either for an entire academic year or for the spring semester only due to calendar differences.  You should not plan to take courses on both the Aachen and Juelich campuses simultaneously.
Master Courses in English
Business, Mechatronics, Aerospace Engineering, International Automotive Engineering, Energy Systems, Biomedical Engineering, and Nuclear Chemistry.  Business, mechatronics, aerospace engineering, and international automotive engineering courses are taught on the Aachen campus; energy systems, biomedical engineering, and nuclear applications courses are taught on the Juelich campus.  NOTE: You should plan to attend Aachen either for an entire academic year or for the spring semester only due to calendar differences.  You should not plan to take courses on both the Aachen and Juelich campuses simultaneously.
Language Courses
Intensive German language courses at different levels are available before each semester (usually 2 weeks at the beginning of March or September) and are free of charge for exchange students from partner universities.  During the semester exchange, students may attend an additional German language course free of charge (approximately 4 hours per week).
academics
Accreditations
All study programs have undergone quality control and have been certified by independent agencies, such as AQAS and FIBAA.  In the context of the accreditations, the following aspects were highlighted:  cooperation with partner universities, supervision of students, professional qualification, international focus of international study programs, and integration of theory and practice.
Orientation
There is typically an orientation session held the week before the start of classes, during which time you will have a Welcome Session where you are introduced to FH Aachen, learn how to register for courses and learn how to use the library services. In addition, during the first weeks of the semester, there is usually a welcome BBQ for all international students of FH Aachen. Practical information is available here.
Internships
Not possible
Part-time Employment
Part-time off-campus employment is possible in Aachen, but it usually requires a relatively high level of German fluency.  Students who meet this requirement can work a maximum of 90 days or 180 half-days (up to 4 hours per day).  Student jobs might be available at bars, restaurants, and offices; the typical pay rate may range from 5-10 EUR per hour.  You must locate your own part-time employment, if desired.
Students with Disabilities
The university has limited capability of accommodating a student with a physical or learning disability.  Typical student accommodations as well as shops and services in the community also have limited capability of accommodating students with disabilities.
Grades & Transcripts

The university uses the following grading system:
| | | |
| --- | --- | --- |
| 1.0 | Very Good | A |
| 1.3 | Very Good | A |
| 1.7 | Good | B |
| 2.0 | Good | B |
| 2.3 | Good | B |
| 2.7 | Satisfactory | C |
| 3.0 | Satisfactory | C |
| 3.3 | Satisfactory | C |
| 3.7 | Sufficient | D |
| 4.0 | Sufficient | D |
| 5.0 | Not Sufficient – Fail | F |
Faculty members have up to six weeks after the exam date to submit final grades.  The university automatically sends an official transcript to your home university and to you at no cost once the information is available.  For additional details on transfer of credits, please refer to the Student Guidebook.
fees
Health Insurance
Students must possess valid health insurance that complies with German regulations. If you do not have valid, compliant insurance coverage from home, the university can arrange the purchase of health insurance; the monthly cost is approximately 90 EUR. For more information, click here.
Please note that if you opt to purchase a policy from home, you will need to take your policy information and a certified translation to the local authorities upon arrival; they will evaluate the policy and if it meets the German regulatory standards, they will issue a document that you will need to present to the university. If it is not in compliance, then you will be required to purchase the German policy.
Registration Fee
320 EUR per semester (approx).  This fee includes student union and student association memberships as well as unlimited use of the public transportation system (buses and trains) in the state of North Rhine-Westphalia.  More information is available here.
Textbooks
Typically no cost
visas
US students planning to study in Germany are not required to have a visa to enter the country.  However, all students who will stay in Germany for more than 90 days MUST apply for a residence permit which can be obtained at the local Foreigner's Office in Aachen.  For further details, click here.  You can also consult the Federal Foreign Office.
video
logistics
Housing
Shared/private apartments.  Since Aachen is a university city with 45,000 students, housing is at a premium. The International Office assists incoming students with shared apartments prior to arrival. If you do not wish to use the housing offer provided by the International Office, you may contact the Student Social Services organization for other options.
Rooms in shared housing or dormitories are generally 200-350 EUR per month; apartments are generally 250-450 EUR per month.  A refundable deposit of two month's rent is typically expected.  Apartments are furnished, but sometimes you will need to provide your own bedding and kitchen items.  It is advisable to initiate your accommodation request two to three months before your arrival.  Otherwise, you may wish to make short-term reservations at a youth hostel while you explore housing options upon arrival.   It is wise to budget approximately 750 EUR per month for living expenses.  More information about housing and the cost of living in Aachen is available online.
Meals
A wide variety of restaurants, bars, bistros, cafes, and snack bars is available.
Transportation

The nearest airports are Maastricht (MST) or Cologne (CGN); however, due to better scheduling, you may find it easier to fly to Frankfurt (FRA) or Dusseldorf (DUS) and take a direct train to Aachen.  Sometimes flights to Brussels (BRU) may offer better pricing; train service to Aachen is also available from here.
The registration fee (see "Fees") includes a semester long bus ticket for travel within the city.
community
Entertainment
A wide variety of restaurants, bars, bistros, cafes, and snack bars is available. Numerous cinemas, live theatre, and sport activities are also possible.  Aachen is home to a number of museums, including the Newspaper Museum and the Computer Museum.  Karneval is celebrated the week prior to Ash Wednesday.  From June through September, there are numerous open-air performances on Katschhof Square.  Outdoor Christmas markets make holiday shopping unique and enjoyable.
Shopping
Small shops and supermarkets are available and open until 8:00 p.m. Monday through Saturday.  Generally, stores are not open on Sundays in Aachen, although the nearby Dutch city of Vaals does have Sunday shopping.
Climate
Average temperatures in summer are 64ºF, while winter temperatures average 36ºF.  It is seldom warmer than 80ºF or colder than 25ºF.  Precipitation is evenly distributed throughout the year; periods of freezing weather and snow are relatively short.
short-term programs
Spirit of Europe
This program offers students an opportunity for on-site lectures as well as exploration of a variety of European destinations. There will be on-site lectures covering provisional content such as leadership skills through equine assisted learning, interculturality in doing business, WWII history, human rights, lean manufacturing, economic and market considerations of international mergers and acquisitions, economic opportunities of alternative energy, and doing business in France.  In addition, you will have guided tours in Paris, France, as well as guided tours and company visits in Ghent and Leuven, Belgium; Aachen, Monschau and Vogelsang, Germany; and Maastricht and Margraten, Netherlands. For more information, click here.
Prerequisites: None
Meals and Accommodations: Accommodations are included in the program fee. Some meals are also included. All other meals are the student's responsibility.
Arrival and Departure: The program starts from the Brussels, Belgium, airport and ends in Paris, France.
Cost: 1,850 USD.  This fee includes accommodations, some meals, guided tours, museums, and ground transportation.
Robotics ROS Summer School
The ROS Summer School provides the right starter kit by using FH Aachen's robotic hardware and – of course – Robotics Operating System (ROS) software. For more information, click here.
Prerequisites: Must have basic knowledge in Python or C++.  Experience with ROS or Linux is not required.
Meals and Accommodations: Accommodations and meals are not included in the program fee.
Cost: 500 EUR.  This fee includes beverages and the social program. Excursions are available for an additional cost to be paid later.
Sustainable Entrepreneurship
Are you interested in learning more about Sustainable Entrepreneurship? Do want to start a new challenge? Learn to improve your own sustainable business ideas with the right tools and methods in this summer school! For more information, click here.
Prerequisites: None
Meals and Accommodations: You are responsible for your own accommodations and meals.
Cost: There is no program fee.  Students are responsible for their own accommodations, meals, transportation, etc.