overview
Founded in 1818, Florence is located on the Tennessee River in the rolling hills of northern Alabama.  Wilson Dam, one of many hydroelectric dams on the river, is adjacent to the city.  Along with three other cities, the area is collectively known as "The Shoals" and is bursting with history, music, style, and Southern hospitality. The striking red clay soil has played a significant role in the area's economy of cotton and soybean production, coal, iron, bauxite, and asphalt.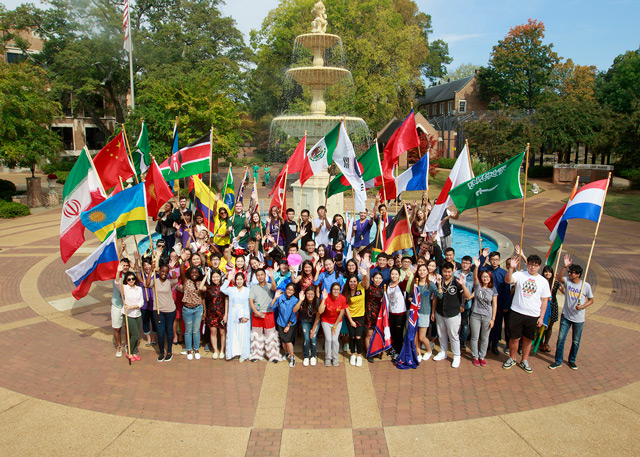 courses
Bachelor Courses in English

Business. Students registering for a full course load may enroll in 12-15 semester credit hours, which represents 4-5 courses each meeting 3 hours per week.  For class schedule information, click here.
Master Courses in English

Master-level students are not able to be accepted.
Thesis/Project Work
Not possible
academics
Accreditations
UNA is accredited by the Southern Association of Colleges and Schools Commission on Colleges, and the College of Business is AACSB-accredited.  The university also has other accreditations.
Orientation
A brief overview of the international student orientation is available here.
Internships
Not possible
Students with Disabilities
Information is available online.
Grades & Transcripts
UNA uses a four point/letter grade evaluation system.  Exchange students must request a copy of their transcript; they are usually sent 24- 48 hours after request.  For additional details on transfer of credits, please refer to the Student Guidebook.
fees
Health Insurance
All international students are required to purchase UNA's designated health insurance coverage.  The cost of UNA-arranged health insurance is approximately $115/month.
International Student Fee
$300.  This fee provides for the DS-2019 form processing and services while attending UNA, including pre-arranged airport transportation upon arrival.
General Fee
$30 per semester hour.  This fee includes admittance into Student Activities, Student Recreation Facility, and Athletic Events, as well as access to technology and campus transportation.
Application Fee
$100.  This fee covers processing your application for admission to UNA as an international student.
Dining Dollars
$150/semester.  This fee provides for $150 worth of food/meal purchases at UNA on-campus vendors.
Housing Application Fee
$150. This fee is required to submit your UNA housing application. Your housing application is not considered submitted until this fee is paid.
Textbooks
Varies but textbooks are typically $500 or more.
visas
All non-US citizens are required to obtain either an F-1 or J-1 visa to study in the United States.
video
logistics
Housing

Shared dormitory.  International students are housed in one of seven air-conditioned dormitories.  Some dormitories have standard double rooms with shared bath, while others are quadruple suites with private bath.  Compact kitchen facilities are available in only some of the dormitories.  All rooms have internet access and cable television connections.
Meals
Students are required to purchase one of the meal plans listed for first-time freshmen for campus dining.
Transportation

Airport service should be arranged into Huntsville, Alabama (HSV), which is 115 km east. Please connect with the university for details on airport pick up service.
There is no local public transportation; private taxi service is available.
community
Entertainment
Florence is home to two cinemas, a community arts center with exhibits and workshops, community and university theatre, and musical events. Restaurants include a mix of local establishments and chain franchises.  The city is also the birthplace of W.C. Handy, a famous blues musician.  Before pioneers came to the area, it was inhabited by several Native American tribes; a prehistoric burial mound and museum is nearby.  Several festivals are celebrated in the area, such as the Alabama Medieval Renaissance Faire, the Native American Festival of the Singing River, and an annual bluegrass festival.  Water sports, fishing, and boating are also popular activities.
Shopping

A variety of small shops and restaurants are clustered near the campus with several large shopping complexes spread throughout the city.  Small businesses are closed on Sundays, while large discount stores are frequently open 24 hours every day.
Climate

Florence has a warm, temperate climate with winter temperatures ranging from -2ºC to 9ºC; annual snowfall is 11 cm.  Summers are hot and humid with temperatures ranging from 21ºC to 32ºC.  Precipitation is evenly distributed throughout the year, with October being the driest month.