overview
Established in 1858, Rolla is located in the scenic Ozark mountains of central Missouri.  It is a regional educational, governmental, and medical center that has ranked among the most livable communities in the nation by a number of publications.  Route 66, known as the Main Street of America, runs through downtown Rolla.  Outdoor activities are abundant with the nearby resources of Meramec Spring Park and the Ozark National Scenic Riverway.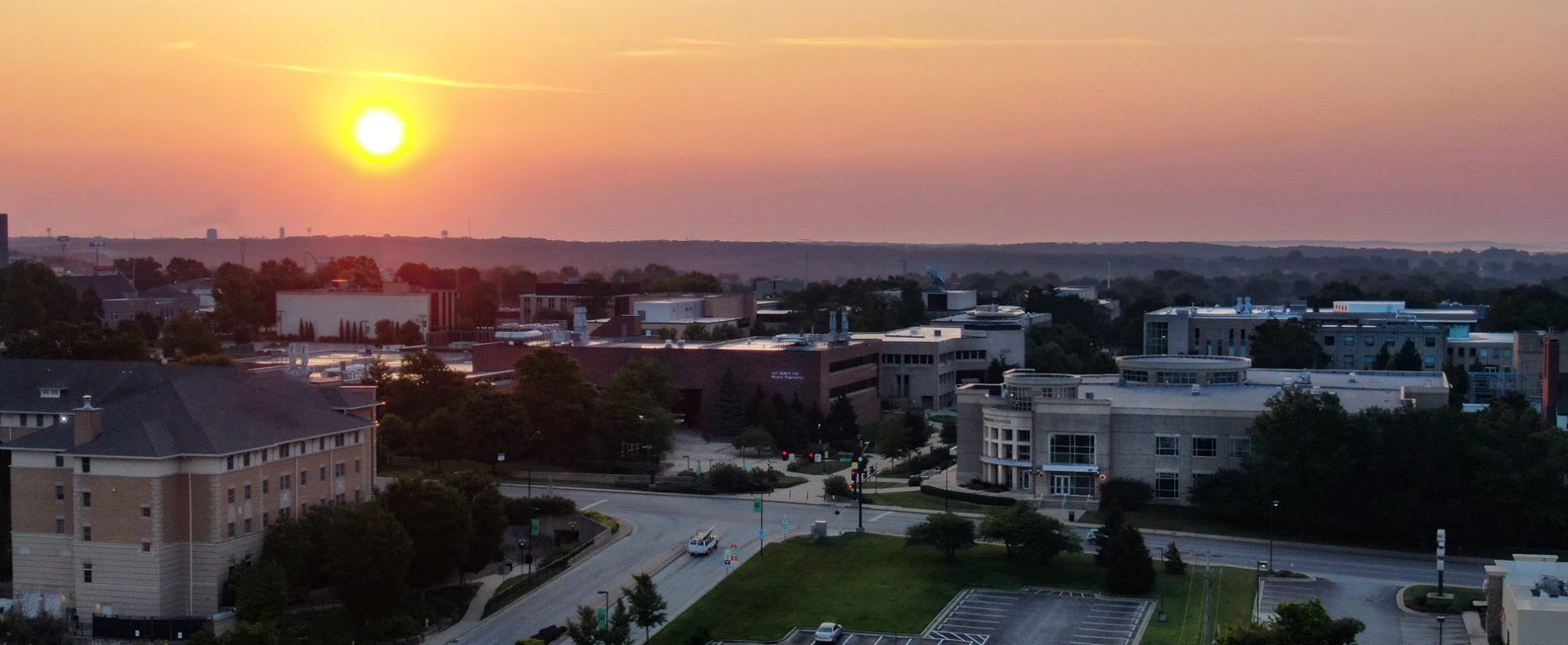 courses
Bachelor Courses in English

Engineering, Applied Mathematics, Biological Sciences, Chemistry, Computer Science, Geology & Geophysics, Information Science & Technology, Physics, Business & Management Systems, Psychology, Economics, History, Philosophy, and Technical Communications.  Engineering fields include aerospace, architectural, ceramic, chemical, civil, computer, electrical, environmental, geological, mechanical, metallurgical, mining, nuclear, petroleum, and engineering management.  Students taking a full course load register for 12 credit hours, which usually represents 4 courses each meeting 3 hours per week (Bachelor students interested in registering for more than the full-time course load must pay tuition and fees for any credit hours above 15).  A complete list of degree programs and course descriptions are available online.  For class schedule information, click here and select the appropriate semester.
NOTE:  A minimum TOEFL score of 79 (iBT) or a minimum IELTS overall band score of 6.0 may be required.  If you are unable to provide either of these two test scores, you can provide two official letters:  one from an English professor on your campus and one from the Magellan coordinator confirming your level of English is above average and sufficient to study successfully in English.
Master Courses in English
Master-level students are not able to be accepted.
Thesis/Project Work
Not possible
academics
Accreditations
The College of Business has AACSB accreditation and programs within the College of Engineering have ABET accreditation.  Missouri S&T also has other accreditations.
Course Enrollment
Once the student has been approved to study at Missouri S&T and has submitted all of the documents necessary for the issuance of the DS-2019, the Study Abroad Coordinator will email the student with the contact information for his/her academic advisor. The student will be asked to contact the academic advisor and discuss course registration with him/her. Once the student and academic advisor have agreed about the courses, the academic advisor will remove the academic advising hold on the student's account. The student will provide the email confirmation of approved courses to the Study Abroad Coordinator who will remove the international hold for a period of two weeks so the student can complete online course register prior to physical arrival on campus.
Orientation
New student orientation is usually scheduled one week before the start of each semester.  Orientation provides students with information about Missouri S&T, the services that are offered, the community, and maintaining non-immigrant status, as well as provides the opportunity to meet other students.  Exchange students are highly encouraged to attend orientation.
Internships
Not possible
Part-time Employment
Part-time on-campus employment may be available to exchange students; full-time degree seeking students receive priority for on-campus employment.  When exchange students find part-time work on-campus, they are limited to no more than 20 hours per week.
Students with Disabilities
Information is available online.
Grades & Transcripts
The university uses a four point/letter grade evaluation system.  Students may view and print an unofficial transcript online at any time.  Exchange students are provided one official copy of their transcript at no cost.  Additional official transcript copies may be requested through the online student system or through the Registrar's Office.  Requests are usually processed within 24-48 hours.  For additional details on transfer of credits, please refer to the Student Guidebook.
fees
Health Insurance
Approximately $860/semester.  University health insurance is required, and students are automatically charged for a full semester's coverage upon arrival. Students must purchase Missouri S&T's health insurance, even if they have coverage through a different policy.  If a student is required to provide proof of insurance prior to the issuance of a visa, please contact Missouri S&T before purchasing a different policy.
Tuberculosis Test
$55.  All students are required to take a tuberculosis test. This can be taken upon arrival with Missouri S&T Student Health Services.
International Student Services
$100.  All international students are required to pay an international student services fee, which provides for DS-2019 form processing, visa advising, and the international orientation.
Student Identification Card
$15.  All students are required to obtain a student identification card for use on campus and to access sport facilities.

Housing Fee
$250 ($200 is applied to the housing cost, $50 is a non-refundable application fee).  Payable by credit card, this fee is due with the on-campus housing application for all students staying in university housing during the exchange semester.
Activities Fee
$16.  This activity/facilities fee is applicable for all Missouri S&T students.
Textbooks
Approximately $500 per semester
Official Transcript
Free – one official transcript.  $10, plus any requested delivery expenses – additional official transcript copies.  This fee is payable when the request is made.
Course Overload
The normal course load is 12 bachelor credit hours (24 ECTS units).  Students who register for more than 15 hours per semester must pay tuition and fees for the additional credit hours.  Most courses are 3 semester credit hours.
visas
All non-US citizens are required to obtain either an F-1 or J-1 visa to study in the United States.  Missouri S&T requires students to obtain a J-1 visa.
video
logistics
Housing
Shared residence hall.  Exchange students are encouraged to live on campus.  A housing request form must be submitted, along with a deposit of $250.  A list and information about the living areas is available.  The cost will vary depending on the housing selected.  All housing includes cable television and internet access.  Rates for one semester are one-half the costs indicated.  Housing costs are charged to each student's account.  Please note that while on-campus housing is guaranteed to study abroad students who apply before the deadline, the choice of housing is not guaranteed.
Each student is responsible for providing their own bedding and towels.  As a service to exchange students, International Affairs offers a starter pack for purchase, which will be available in your on-campus housing unit.  The starter pack includes a set of sheets and pillowcase, pillow, comforter, bath towel, wash cloth, hand towel, bottled water, and various snacks/crackers.  You may request information about a starter pack from the study abroad advisor.  If you prefer to provide your own bedding, sheets should fit an XL twin size mattress which is 39 inches x 80 inches for all housing units, except Miner Village, which requires full size bedding (54 inches x 75 inches).
Meals
Students living on campus are required to purchase one of a variety of available meal plans.  Students who choose to live off-campus are not able to purchase a student meal plan. Meal plans prices for one semester are one-half the price indicated. Additional information about dining locations is available.
For meal plan purposes, "declining balance" is defined as an amount of credit which is available to purchase a la carte items, which have a price for each item or meal.  The amount of the food purchased is deducted from the amount remaining on your student declining balance account.  This type of dining is available in the Havener Center.  A "meal" is defined as breakfast, lunch, or dinner, and can be eaten in one of two cafeteria locations, which provide an all-you-can-eat dining opportunity.  The food court locations in the Havener Center also usually offer a limited number of items which may be purchased as a "meal."
Meal plans can be confusing.  Students may change their meal plan only until the second week of classes.  Your Study Abroad Advisor and Residential Life staff will be happy to answer questions related to meal plans.
Transportation

The nearest international airport is in St. Louis, Missouri (STL); other airports in Missouri, such as Columbia (COU) and Springfield (SGF), are slightly closer but require a connection in a larger airport.  Most students travel to St. Louis and then travel to Rolla on a shuttle bus or public bus.  Contact the study abroad advisor for more information.
Inter-city bus transportation is available but limited. There is no local public transportation; however, a taxi service is available.  The Office of International Affairs will provide a free shuttle a couple of times per week for exchange students to go shopping.
A bicycle is useful to exchange students so they can more easily travel throughout the campus and community.  Students can buy bicycles at a reasonable cost and hope to resell them prior to departure.
community
Entertainment
Leisure activities in Rolla include a four-screen cinema, bars, and a private, health and fitness center.  Cultural events often center around the university, with touring professional theatre, music, and dance organizations.  Both civic and student organizations sponsor various social and philanthropic events. Missouri S&T also hosts the annual Celebration of Nations. Outdoor activities are abundant with the resources of Meramec Spring Park and the Ozark National Scenic Riverway.  Canoeing, float trips, hiking, and caving are popular, as well as tennis and golf.  Several wineries in the area sponsor an annual fall wine fest.  The university campus is home to a mineralogy museum, Stonehenge-Rolla, and the first nuclear reactor in Missouri.  In addition, the university offers a wide variety of extracurricular activities and organizations. Students also have access to many athletic events on campus.
Shopping
The campus is adjacent to the downtown area, which offers a variety of small shops and restaurants.  Shopping centers on the outskirts of town offer discount stores and many chain restaurants.  Smaller stores are closed on Sundays, while discount stores are open every day, sometimes 24 hours.
Climate

Rolla has a temperate climate with four distinct seasons.  Summers are hot and humid with temperatures ranging from 19ºC to 40ºC.  Winters are cold with temperatures ranging from -8ºC to 10ºC; January and February are the coldest months with 10-12 cm of snow likely each month.